With the Lesson Plans module in QuickSchools you can create Lesson Plan Sets which can be applied to multiple courses across different semesters.
Lesson Plan Sets
You have to create a Lesson Plan Set first, and then apply it to a subject. You can re-apply the same lesson plan set to multiple subjects across different academic terms. When you move to a new academic term/year, you can re-use the same Lesson Plan Set, and apply it to the new subject.
To get started you need to add in a Lesson Plan set:

Once you have a lesson plan set added you can click on the Daily Lesson Plans tab.
Daily Lesson Plans
On this screen you will see the "Select Subject" link so that you can select subjects that you would like the lesson plan set to be linked to:
Once you click on the link you will see a list of the courses offered during the selected term:

From this screen you can also add your daily lesson plans, you will need to enter a title, summary and homework:
Once added it will appear in your list so that you can attach files and assign homework:

Lesson Plan Dates
The Lesson Plans Dates feature allows you to configure the Lesson Plans Module so that instead of identifying Lesson Plans by number, teachers can identify them by the day the lesson will be delivered. The image on the left below shows the default behavior right shows what things look like with lesson dates turned on:
To turn on this feature, just go to "Settings" > "Turn Features On / Off", and select the appropriate check box: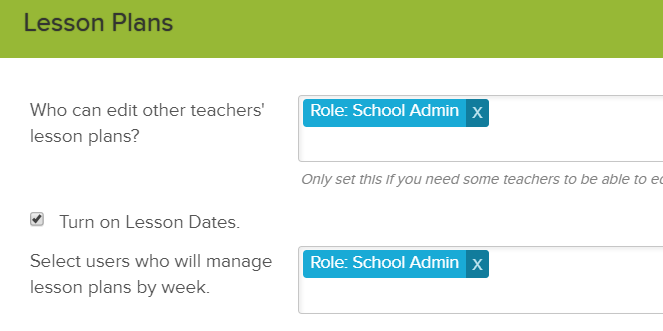 You'll notice with the new date functionality, you now have the option to view lessons by week. Once it's turned on, you'll have the following screen:
Please feel free to chat in if you need any help setting up this module.