The goal of the Attendance Dashboard is to show periods where attendance is not yet taken and be able to notify the teachers on the list via email. You can send emails manually or schedule on a daily or weekly basis. This tab is enabled via the Attendance Dashboard App and accessible from the Attendance module.

THIS IS A BETA FEATURE: To have this feature enabled, please contact our Support Team.
Attendance Type
Select the attendance type to generate the report. For Homeroom-based and Period-based attendance, the periods are listed by homeroom teacher.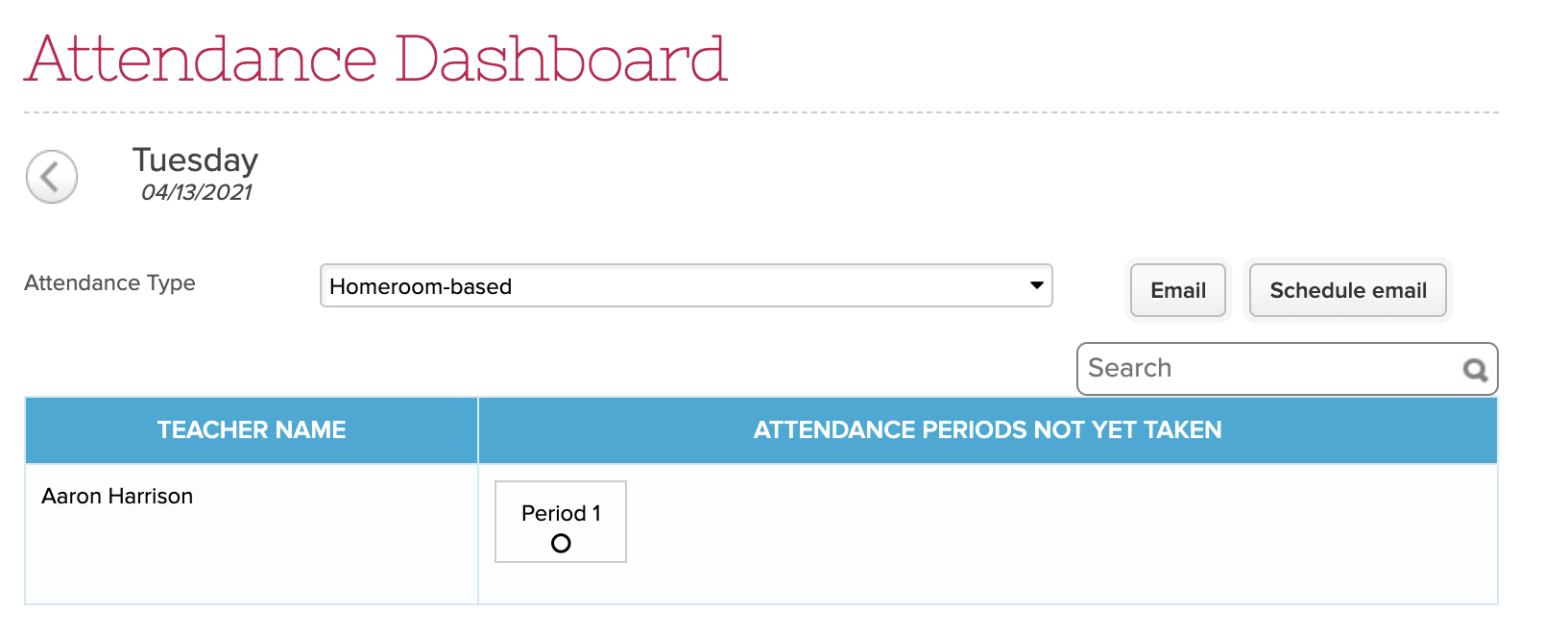 Homeroom and Period-based Attendance
For Subject-based, the periods are listed by teacher and subject. You can use the Search bar to filter the report by teacher or subject.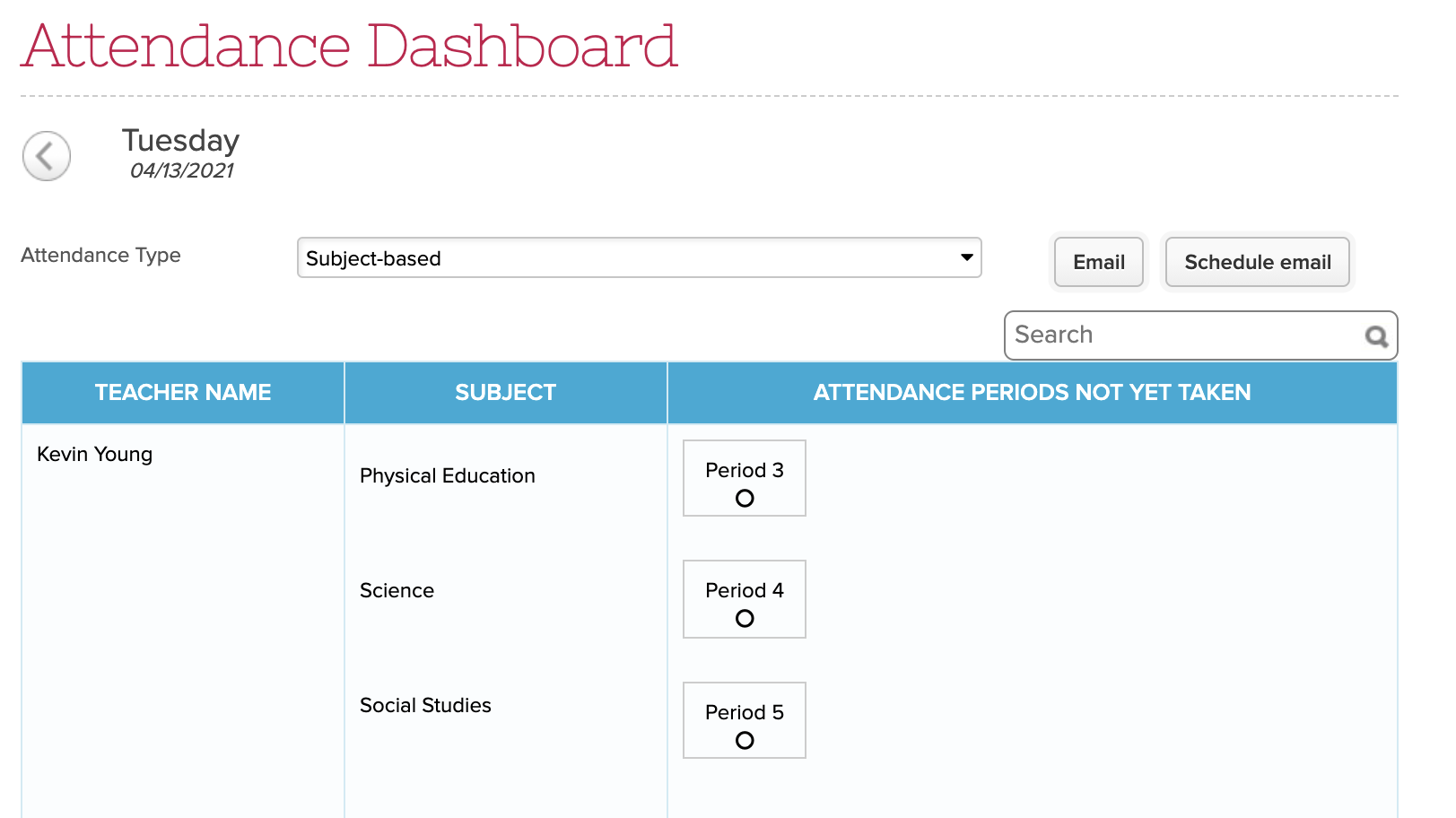 Subject-based and Rotating Attendance
The report only works within the active term's date range. If you need to check the previous term's report, you will need to use the Summary reports.

If every attendance for the day has been taken already, the report will be blank.

Taking Attendance
For school administrators who have access to take attendance on behalf of other teachers, the period boxes are clickable which redirects the admin to the attendance tab where the attendance can be updated. If the user is not a global attendance taker, the periods are grayed out.


Sending Notifications
You can manually send an email or use the schedule email function. Just like all the other email functions in Quickschools, you can compose, create an email template and see email history by clicking the Email button.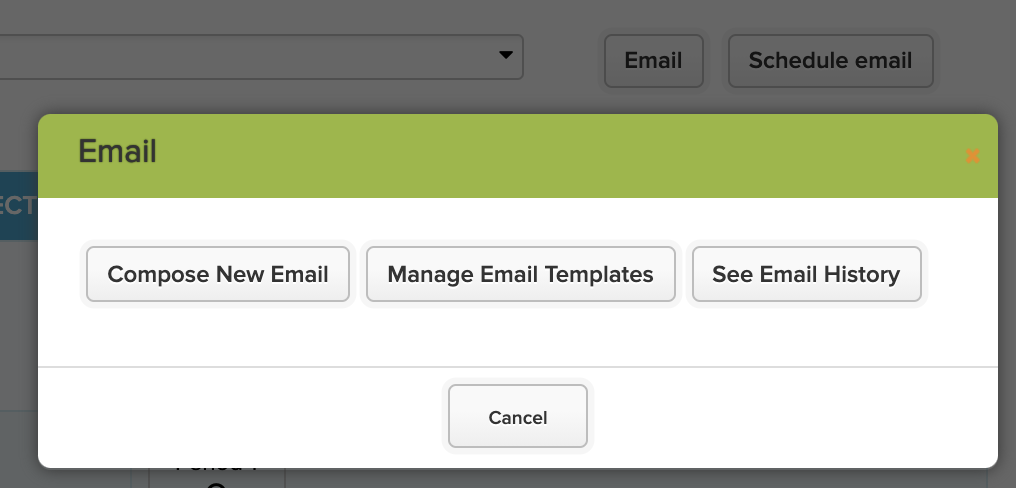 Note that manual sending of email only works for the current date's report. This is similar to the Daily Not Yet Taken notification type (discussed below).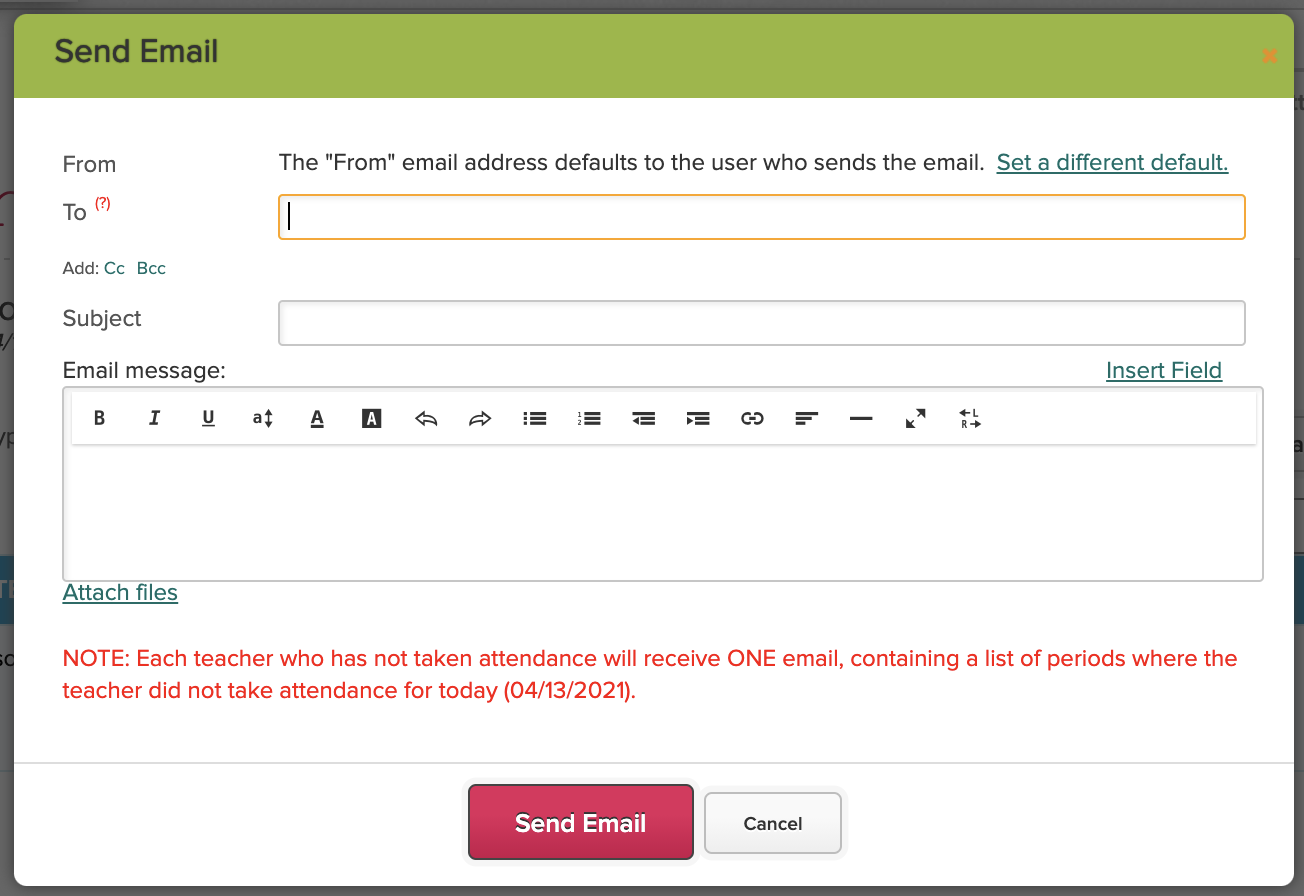 Before scheduling an email, you must create an email template first. Placeholders like the teacher name, email and the attendance report are available using the "Insert Field" link.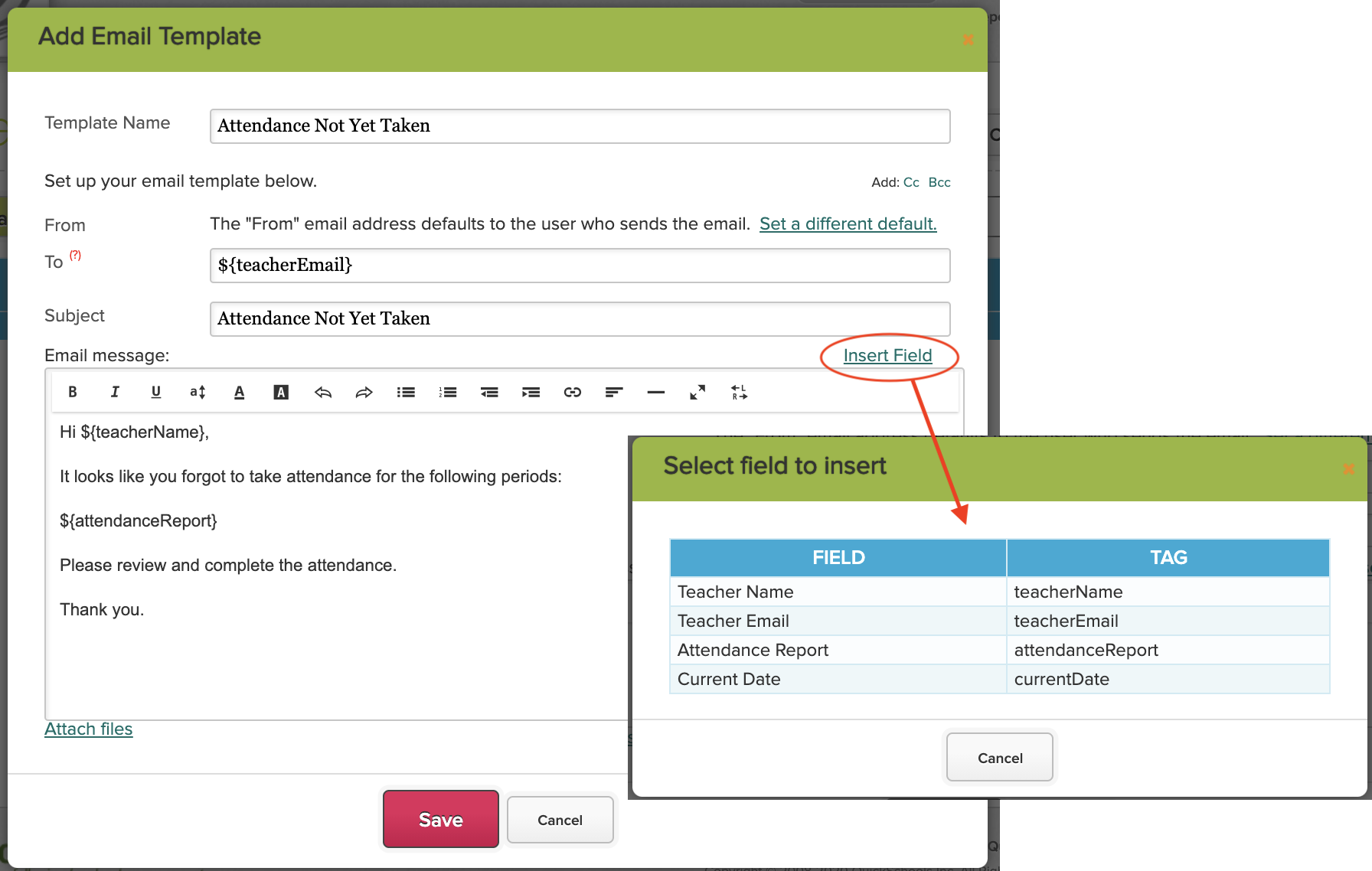 To schedule a notification, simply click the Schedule email button. Select the attendance type, notification type, email template, date, time and when the emails should be sent. You can even set an end date.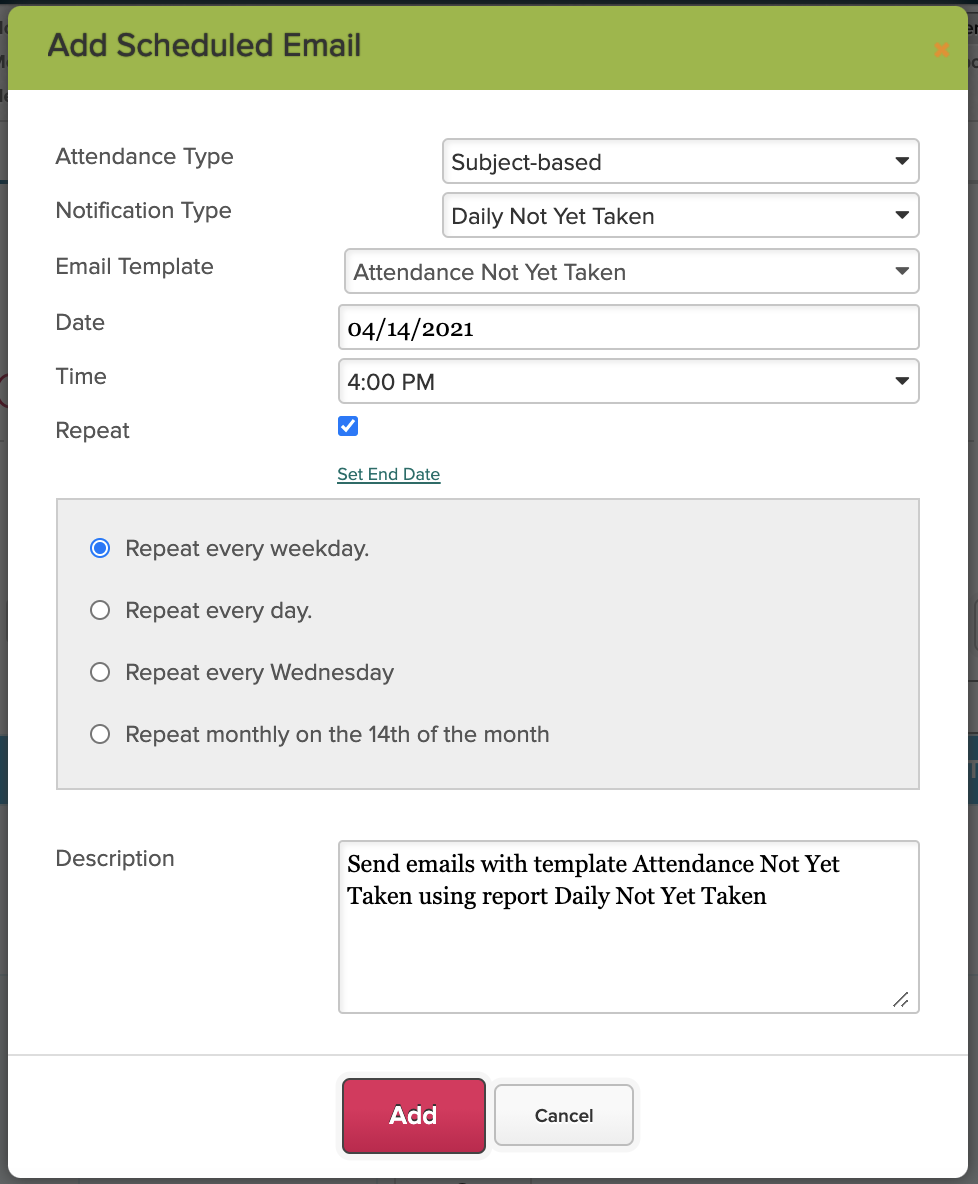 Sample scheduled email
Notification Types for Scheduled Emails
All Not Yet Taken

- this will list all the attendance not yet taken within the active semester's date range.

Daily Not Yet Taken

- this will always take the current date, and not the date selected on the screen.
You can check the email history to see if the scheduled emails were sent and what the teachers have received. Here's a sample of the notification: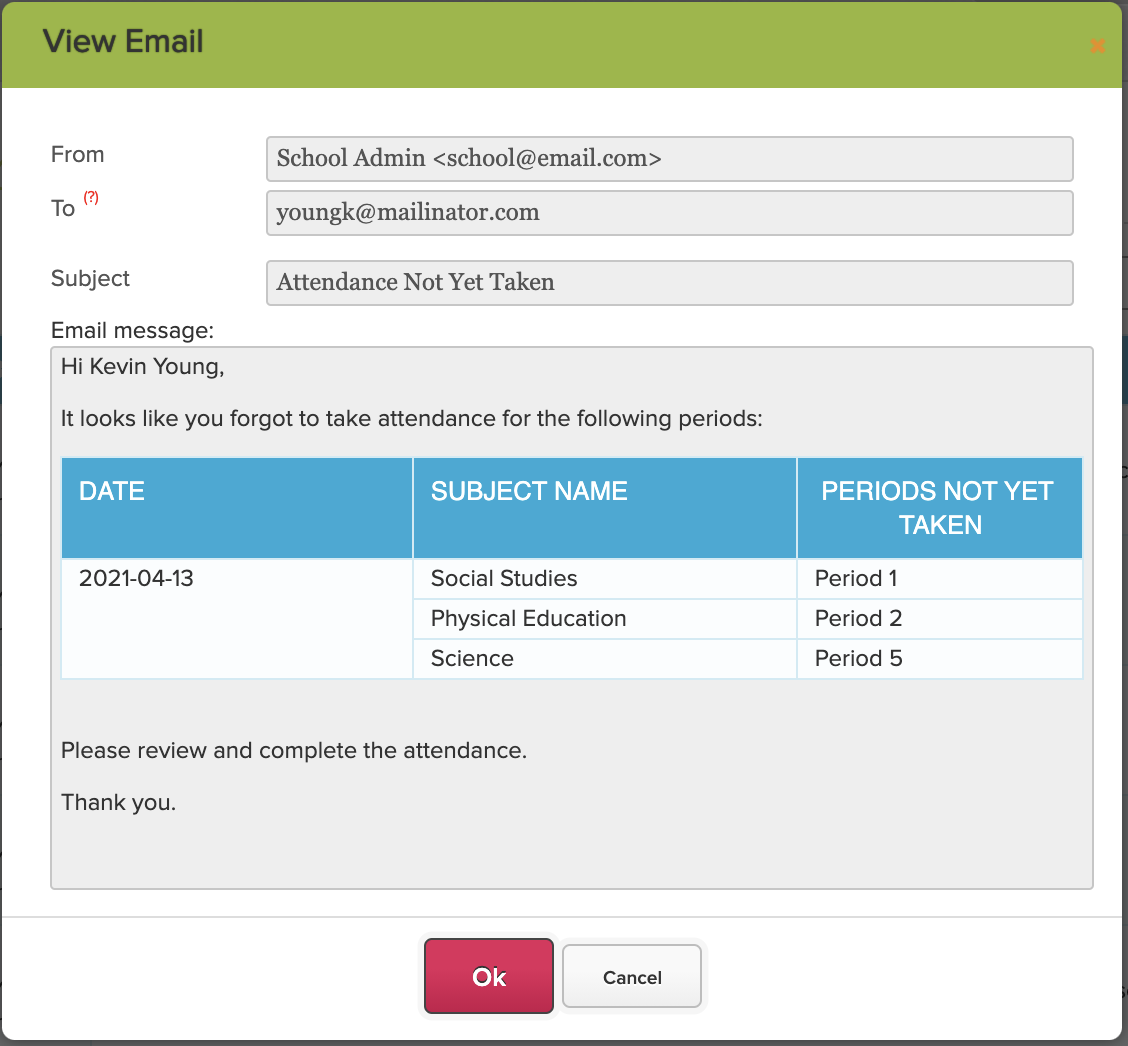 If you need to check the status of the pending scheduled email, please contact our Support Team.