The steps below show how you can give other teachers the permission to access other schools. In this document, please refer to the table to identify the schools.
| | |
| --- | --- |
| School Code: | School Name: |
| qschool1 | School-1 |
| qschool2 | School-2 |

Scenario: Teacher-1 already already has access to School-1. You need to give him access to School-2.
Important notes:
No need

to add

Teacher-1

as a new teacher in School-2. In group school, a teacher should be added to only one school.

Make sure

Teacher-1

has already been invited in School-1.
STEPS
1. Log in to [qschool1] and go to Teachers > District-Wide Teachers & Staff tab

2. Search for the teacher via Search box. You can search using either the teacher's name or the employee number:

As you can see above, Teacher-1 already has an account in School1, and is already invited. This is indicated by the "Revoke Access" link under School1.
3. Click the "Give access" link under School-2 column to give him access to this school:
4. It will now show "Linked" under School-2, indicating that the teacher now has access to School-2: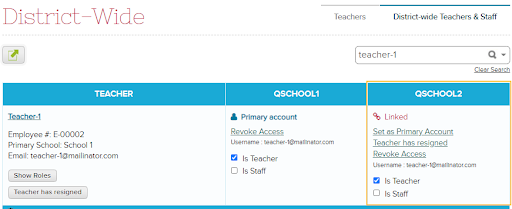 5. When Teacher-1logs in to School-1, he will now see School-2 when he clicks the "Switch School" button. Clicking School-2 will bring him to his School-2 account.

Same goes when he logs in to School-2, he will see School-1 when he clicks the "Switch School" button.


NOTE:
Should the teacher need to log in directly to School-2, Teacher-1 can use the same username and password he's using for School-1.

To remove

Teacher-1

's access from School-2, simply click the "Revoke Access" link below the School-2 column.

If you have a teacher who needs access to 2 or more schools, but the teacher doesn't exist yet in any school, please add the teacher to one of the schools (preferably to his primary school), then follow the steps in this document to give him access to another school.

If a teacher already exists in both School-1 and School-2, make sure the teacher has the same Employee Number. If you want School-1 to be the Primary Account of the teacher, click the "Give Access" link under School-2 column (or vise versa).