Pre-Enrolling Existing Students
This new process/feature in QuickSchools is designed to help facilitate students' transitions between schools and support the paperless course requests system.  
Using the Pre-Enrollments Screen
Pre-enrollments system starts on the District-Wide Search page in the Students module (for administrators and office managers with the appropriate access). Click the + Pre-Enroll Students button to get started.

You can pre-enroll any group of students from one school to another in this screen. For example, if you are currently in a middle school, you can pre-enroll students entering or exiting the school from the same screen. Select the "FROM" school and grade-level and the "TO" school and grade-level to prepare a list of students from the one school to pre-enroll into the other.
Use the table of students to select who should be pre-enrolled (students who will definitely be leaving the district for the next term or not promoting to the new grade can be left off the list of students to pre-enroll into the new term).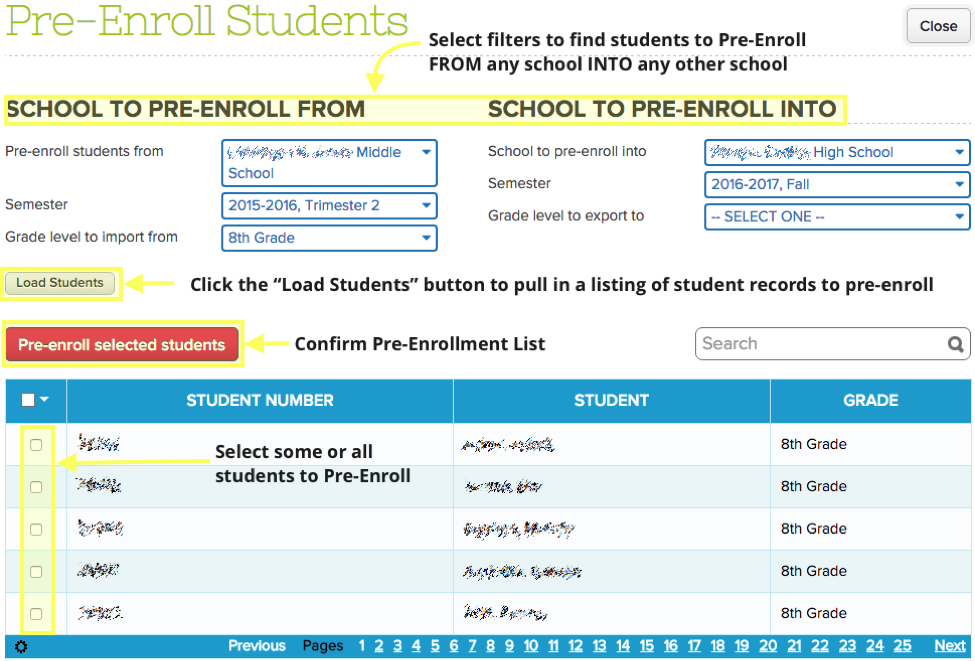 Confirm the list of pre-enrolled students when you are done.
Once you have confirmed the list of students to Pre-Enroll, use the dialog that will appear to verify the sites and grade-levels you will be move students from and into.

Once the students are Pre-Enrolled, they will show up in the new site's Students module.
Reviewing Pre-Enrolled Student Records
Once students are pre-enrolled, they will appear in their future school's Students listing. Here's a brief walkthrough of how to find and identify their records.
Finding Pre-Enrolled Students in their New Site
Pre-Enrolled students will appear in the Students module for their new site. They will not appear in any listings anywhere else, except for Course Requests. Students can be searched for by name and student id in the same way as current students. Pre-Enrolled students are identified by the tag on their record listing.

Editing Information for Pre-Enrolled Students
Students' information can be viewed and edited at their new site using the same Student record interface. Pre-Enrolled students are also flagged as such in their records.