QuickSchools has the ability to directly import data from a file into your Gradebook. You may enable it via SETTINGS > Configure Report Cards/Gradebook:

Once the import functionality is enabled, the "Import" button will appear in the Gradebook:
Please note that your excel file needs to contain the following 6 fields:
Student Name
Column / Assignment Name
Column / Assignment Date
Category
Marks
Total Marks Possible
These are other fields you can import into the Gradebook:
Public comments (visible for the students and parents)
Private comments (visible for teachers only)
The final step is to simply click on the big red button labelled "Click Here to Import Data", and you should be all set.
Importing Grades for Multiple Subjects
If you are importing grades for multiple subjects, please add these two columns in your excel file:
Subject Abbreviation/Subject Name
Please use Subject Abbreviation if you have subjects with the same name, since Subject Abbreviation should always be unique. You can map the Subject Abbreviation column into Subject Name in Quickschools.
Class Name/Grade Level

Here's how you map the fields: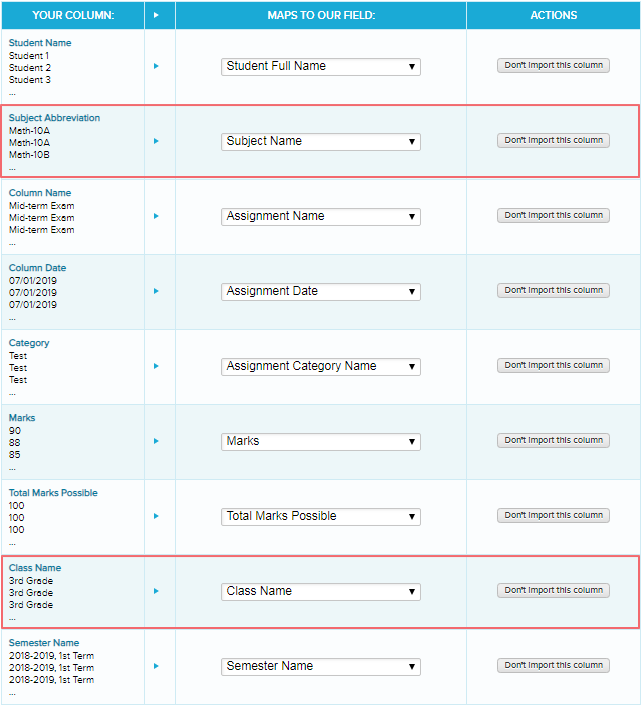 The Semester Name column is optional. But if you're importing grades for inactive semester, you need to add the Semester Name column in your excel file and include it in the import.
You can download sample template of the import file below:
Gradebook Import Template
20DP1128R