The Online Forms app is a very comprehensive system which will allow schools to collect information from any user within their QuickSchools account (Teachers, Parents and Students) via an Online Form.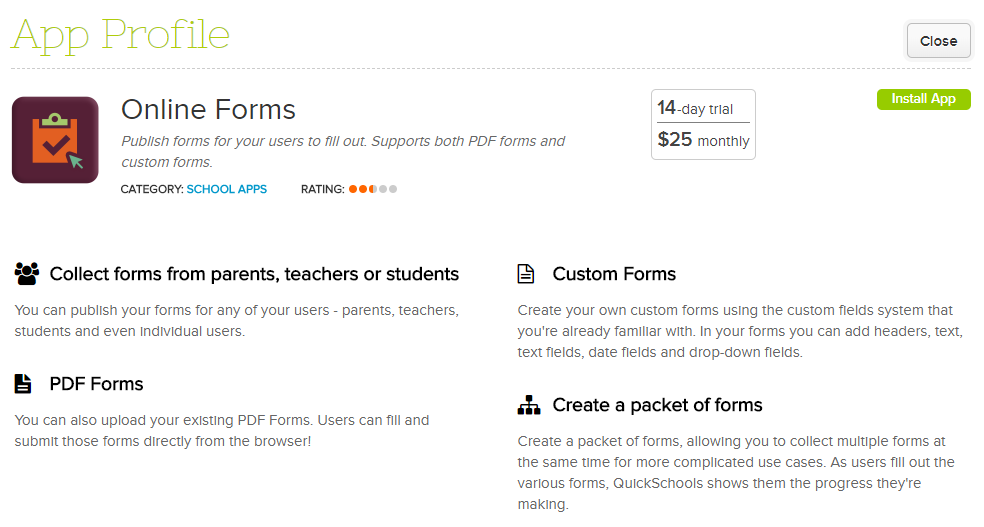 Once you've enabled the Online Forms apps for the appropriate users, you can then go to the "Online Forms" menu to create your new Online Forms:
Start by simply clicking on the "Add New Form Packet" on the top left of your Online Forms screen. This will take you to the Form Packet Configuration following screen:
When you first start out, the Form Packet is in "Draft" mode, which means nobody can see it unless you're an administrator. Fill in the details of the Form Packet (like Name, Description, Instructions and who can submit the form). There are several other sections you can fill, as described below:
Forms: These can be Custom Forms using our Custom Fields framework that you've seen in our other modules (details described below). Or, you can upload a fillable PDF file. Be sure to name the fields in your fillable field helpful, descriptive names.
Supporting Documents: You can upload any additional files/documents that you'd like the user to access during the form submission process. These can be contracts, tutorials, and other reference files:
Workflow: The system comes with built in workflow statuses for "In Progress" and "Submitted". Add any additional statuses that would apply to your process like "Reviewed" or "Completed".
Advanced Settings: For advanced users, you can use this form to capture Enrollment/Registration information, as well as make it a multi-step submission process. We'll describe more about these features in a future article.
Click "Create Custom Form" to create a custom form using our Custom Fields framework, as per the Custom Fields module you've seen in other parts of our software (like with Students, Teachers, Parents/Guardians, Admissions, Discipline, and Lesson Plans), add as many fields as that you'd like to track. You can control the field type and requirement.
Mostly, you can ignore the "Map To:" field, as this is mainly for the Enrollment/Registration process where you'd like to copy over captured information from the Online Form into system fields within your QuickSchools database. So, for example, you can map fields to address fields, and during the enrollment process for the Online Forms, the data from the form can be copied over to the student record.
You can click on "Preview" to see what the complete form looks like:
Once you're satisfied with the Form Packet (i.e. Packet description, form list, supporting documents, workflow statuses, etc), publish the Form Packet.
The Online Form is now available to all users. Forms released to specific users appear highlighted on their first screen after login. Here's an example of how it would look like on the Parent Portal:
When the parent clicks on "Start Filling Out Form", they will see the following screen:
The form packet shows all forms required for the packet, as well as any supporting documents that can be downloaded. As the parent fills in the required fields, the progress of completion status will get updated.
Once the form is submitted, administrators can view them back on the Online Form screen, which now looks like this:
And the "View Submissions" screen will display all forms, including forms that are in progress.
Of course, please do experiment with the Online Forms system. If you have questions or suggestions, let us know.
17MR1220R