There are cases where you need to permanently delete a student record from the system. You might need to get rid of test students or mistakenly added students, or you probably need to comply with certain standards. 
Quickschools supports permanent deletion of student records. Basically, deleting student records in Quickschools still allows you to view the deleted records and restore them to the list of active students. The Permanent Delete function removes the student record for good. Records that have been permanently deleted will not be recoverable.
A student should already be deleted for it to be permanently deleted. To delete an active student, open the student profile > click Actions > select Delete this student:

Please follow the instruction below to permanently delete the student from the system:
1. Go to Students tab > enter the student name in the Search box > click the inverted triangle in the Search box > check 'Show deleted students' > click Search: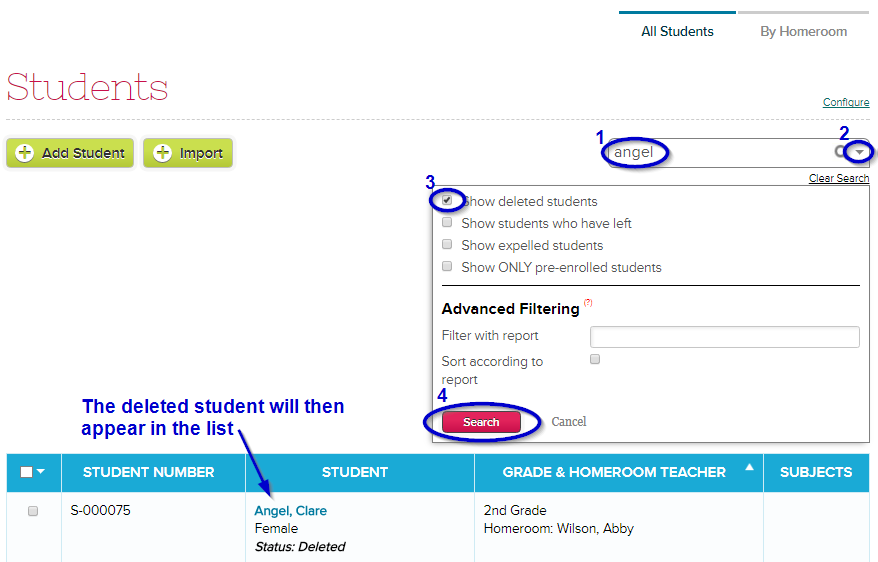 2. Click the student in the list to open the record.
3. Click "Actions" then click "Permanently Delete".

You'll then get a warning message before confirming the permanent deletion: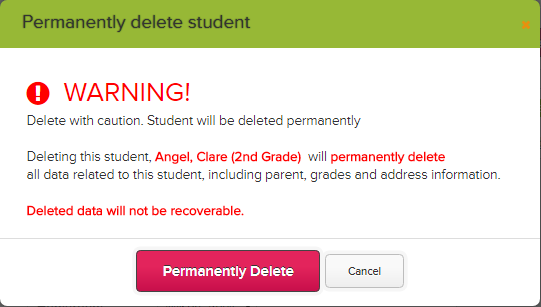 Please exercise EXTREME CAUTION when permanently deleting records. Deleting a student record will also delete ALL ASSOCIATED DATA, like parent info, grades, attendance, etc.
18DP0116