The Homework feature offers teachers and school administrators a convenient and simple way to post assigned homework that is accessible to both students and parents. A homework assignment has the following information:
Note: Homework is graded using the Gradebook Module.
This article offers detailed instructions on accessing the Homework Module, assigning, edititng/deleting, and searching homework. Administrators can also use this chapter to learn how to configure homework settings.
Configuring the Homework Module
Configuring the Homework Module is necessary before homework can be assigned. This process must be completed by an administrator. Initial steps to activate the Homework Module:
Click on SETTINGS > TURN FEATURES ON/OFF at the top of the page.

Check the box next to Class Discussions / Homework option and click on Configure next to the check box.
This pops up a window which allows administrators to list personnel who are authorized to manage Homework. In addition to teachers, other school personnel may be authorized to enter homework details on behalf of teachers. Administrators can also authorize select users to run reports.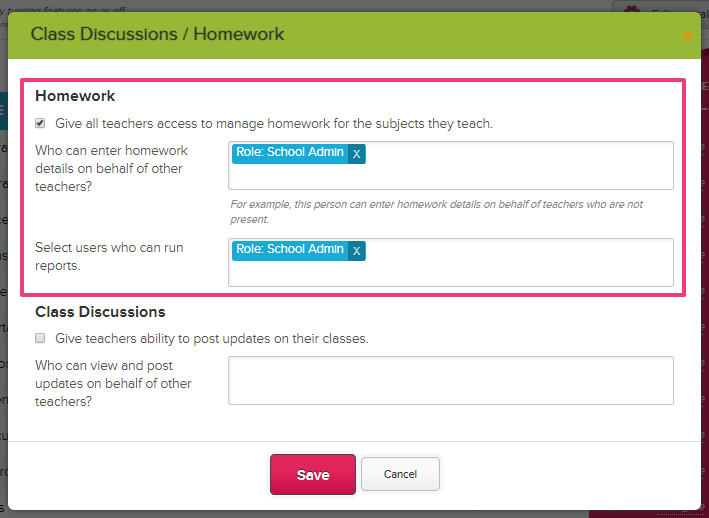 To complete configuration of Homework Module:
Check the

box if you want teachers to manage their homework assignments including attachments.

List personnel who can globally enter homework details on behalf of teachers in box provided.

List personnel who can run reports.

Click the Save

button.
Homework reports are accessible in Reports Module.
Accessing Homework
Access the Homework Module by choosing "Homework" link at top of page. The Homework page shows an overview of homework that has been assigned and are listed in numerical order by grade then alphabetical by subject.
This is how it looks like in a teacher's account: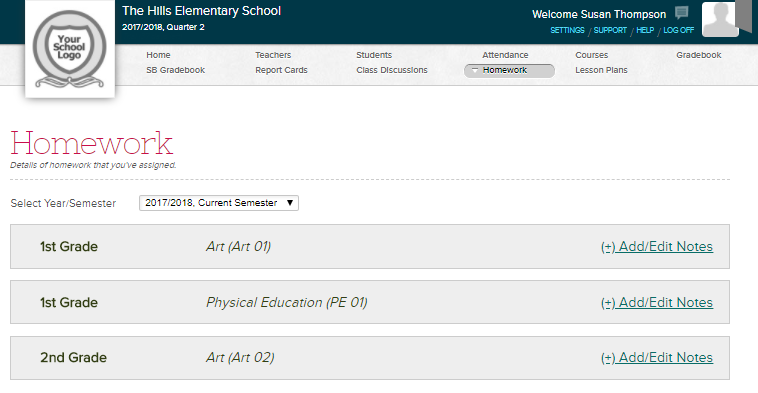 Add New Homework Assignment
Click the (+) Add/Edit Notes link next to subject name to open the list of homework. Click Add Note button to add a new homework.

The pop up box should appear displaying an area to enter new homework assignment that looks like this: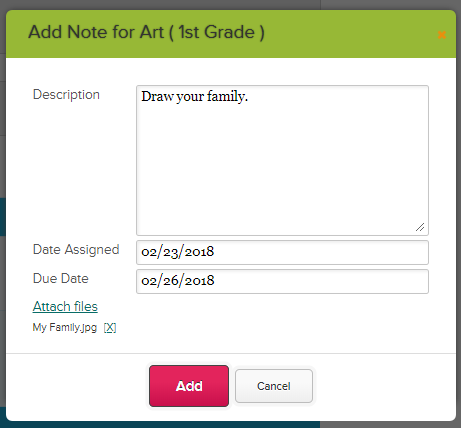 Fill in the description, assignment date and due date. You can attach multiple files or remove incorrectly attached files by clicking the [X] mark. Click Add button to save new homework assignment.
The table should now show the newly added homework like this:

Editing and Deleting Homework Assignments
Click on the Edit button to open the Edit Note dialog box.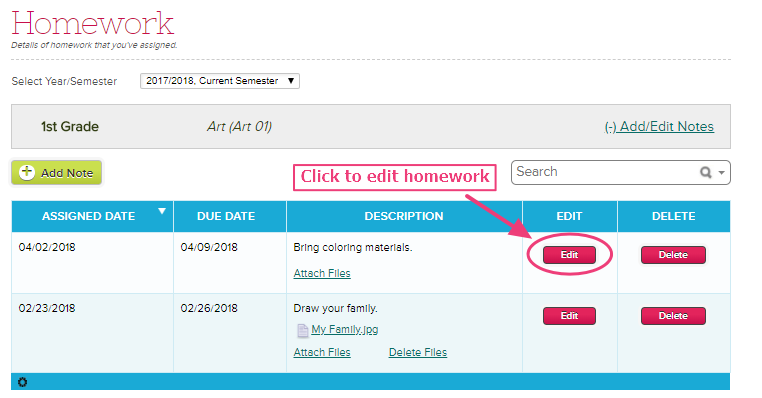 Changes may be made to Description, Assigned Date, and Due Date. Remember to click the Save button to keep any changes made. Attachments can be added and/or deleted directly from the homework list.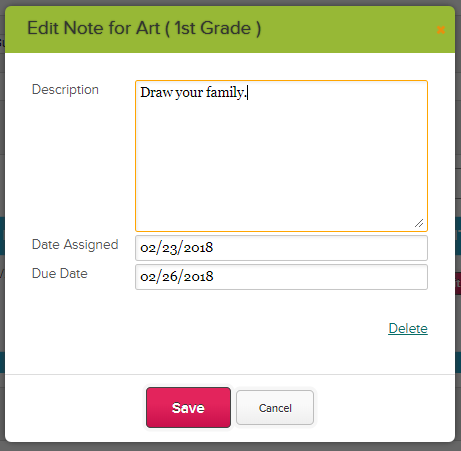 Homework assignments may also be deleted. Once deleted they will automatically be removed from student and parent portal. 

Choosing the Delete button will prompt a second chance question to delete. Choose Yes, Delete button as shown below to delete assignment.

Adding/Editing an Attachment
Attachments can be added and deleted by clicking the appropriate links. 

When deleting files, the link will give you options to delete individually or all files.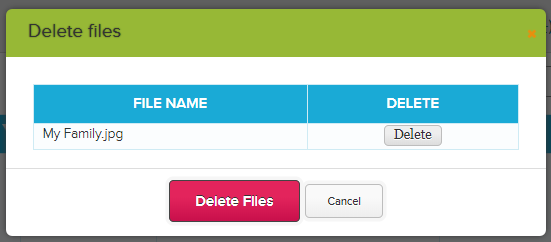 Search Option
Searching for homework assignments can be done either through search box or date range. To search homework assignments for specific wording, enter text in search box. Homework assignments can also be searched by Date Assigned or Due Date by clicking on the gray triangle in the search box. Simply enter dates and click on the Search button.
Notification in Parent Portal/Student Portal
When parents or students log in, they will immediately see their homework at a glance.
Homework Assigned - This shows homework assigned in the last two days.

Homework Due - This shows homework due in two days.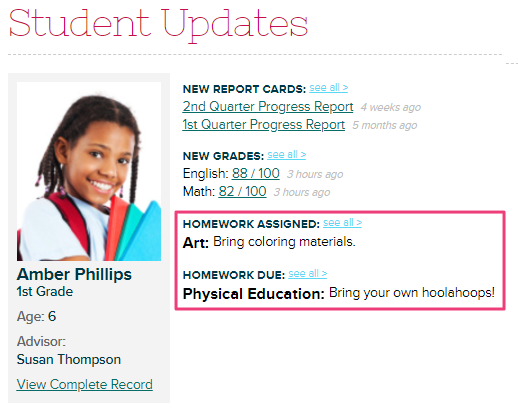 18MR0410