Lunch Ordering is an app that allows parents to order lunch for students via Parent Portal. In this article, you'll learn how to set up the app in sequence:

To install the app, go to App Store > type "Lunch Ordering" from the search box and press enter. Click on the app to open the profile.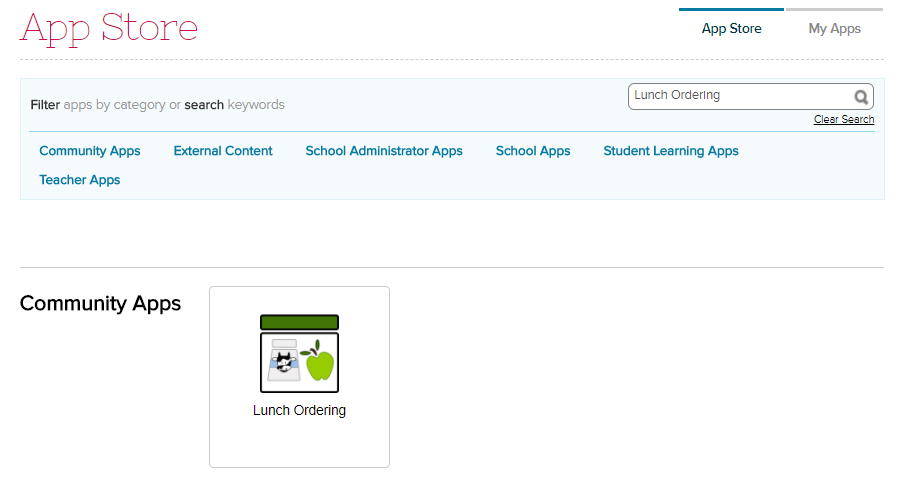 Choose users who can manage meals, calendar and charges. You can also enable option to charge orders via Fee Tracking and enable parents to view and submit daily lunch orders. Click Install afterwards.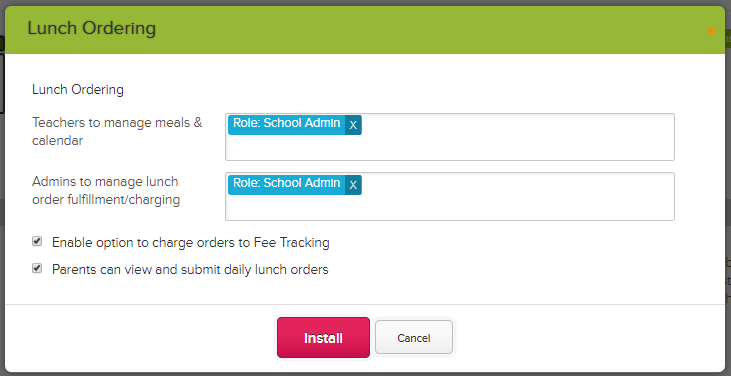 It should now appear on the menu like this:

Configuring the App
Step 1: Configure Meals
Once you open the app, click on the Configure Meals tab on the right. This stores all the meal types that you can select when you configure the calendar. You can add individual items or meal packs.

To add a meal, simply click Add Meal Type button. A pop-up will appear. Enter name, notes and cost of meal. Finish by clicking the Add button.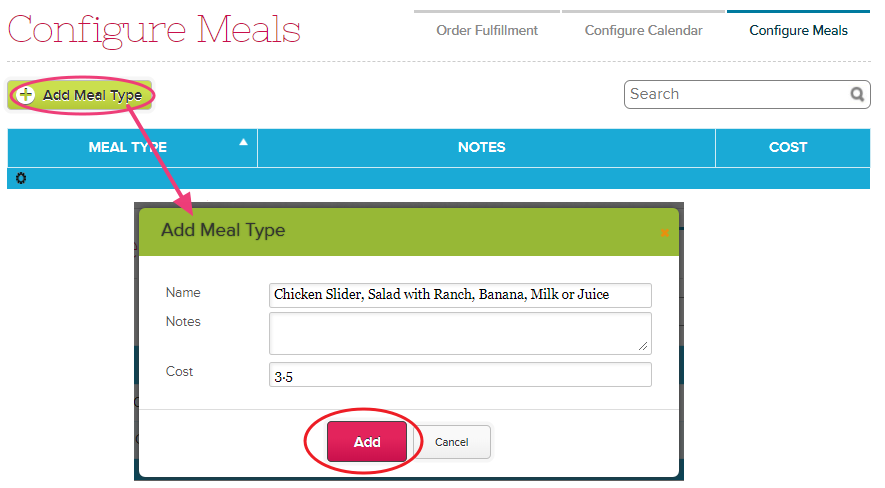 Each meal added will appear on the Meal Type column, which is listed alphabetically. You can also arrange by notes or cost by just clicking on the blue header.

Step 2: Set Up Menu via Calendar
Once you've entered all meals, it's now time to set up menu for the day. Click on the Configure Calendar tab. The screen consists of:
Month and Year - select the month and year you need to setup the menu for. You can set up meals in advance for future months.

Calendar - you can select multiple meals from the dropdown options that parents can choose from for their child.

Number of days to close ordering - if you enter 2, parents will not be able to order 2 days before the lunch serve date.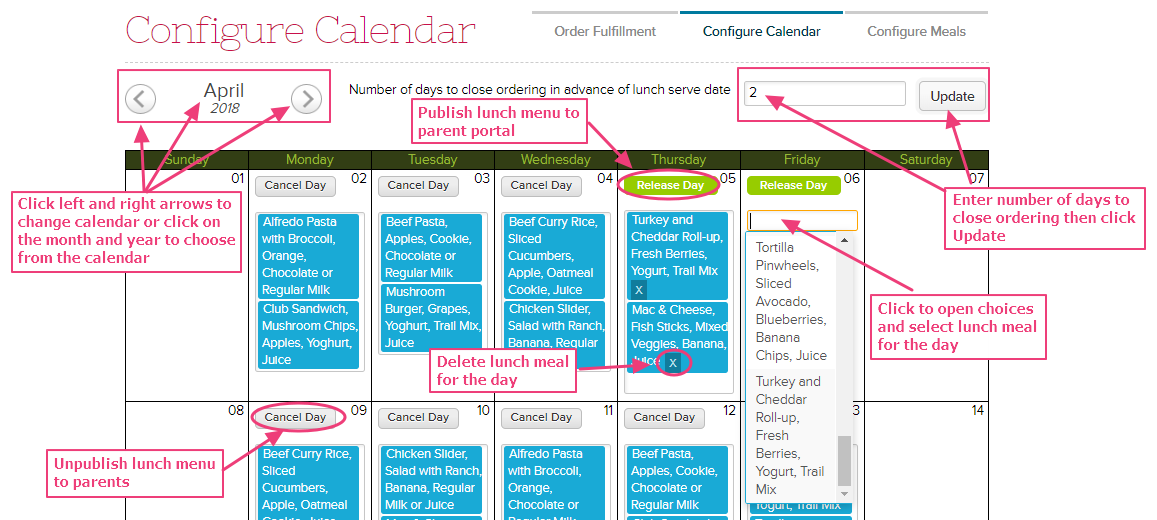 Step 3: Fulfill and Charge Lunch Orders
Once parents have entered their orders, you can manage it via Order Fulfillment tab. After they have been served, you can mark the day as FULFILLED. You can do this per date or in bulk. Note: Fulfilled dates cannot be reversed.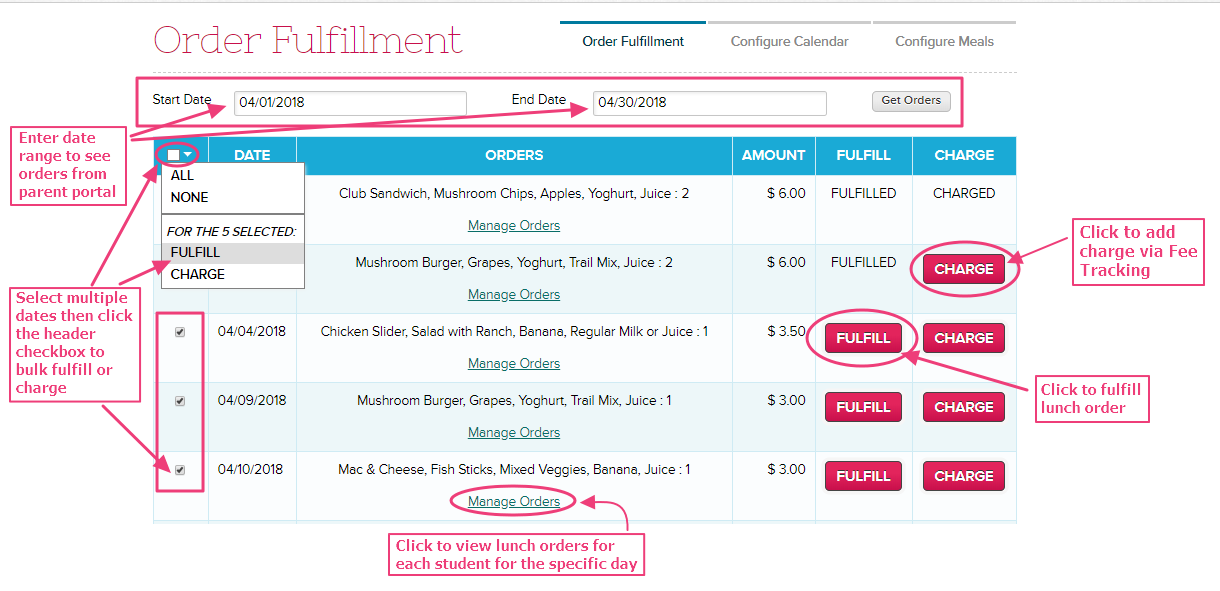 If you click Charge, the system will automatically add a charge on the student's Fee Tracking record as illustrated below: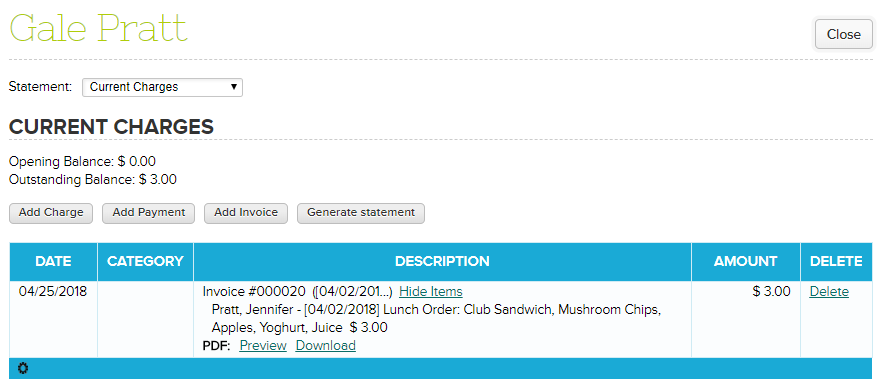 You can also bulk charge order for multiple dates. The charges will appear in one invoice like this:

To review orders per day, click the Manage Orders link. You can edit/delete the order before the serving date.

How to Order Lunches via Parent Portal
When parents login to their accounts, they'll see the Lunch Ordering on the menu. Clicking on this will show list of children whom she can order lunches for: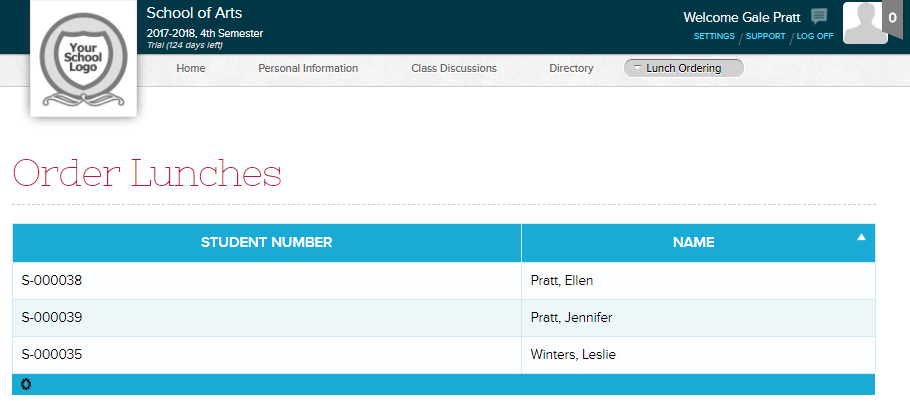 Click on a student to select orders. Parents can:
Select order from dropdown

Delete selected order

Submit order

Cancel order before serving date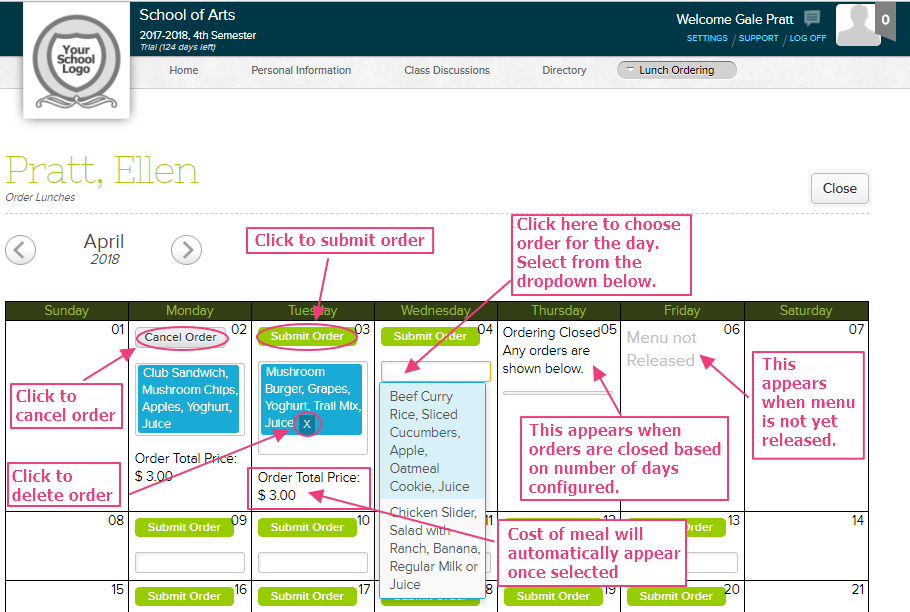 Feel free to share this to parents for instructions on how to use this feature.
Reporting Lunch Orders
Lunch Orders report can be generated via Report Creator app. If you don't have this app yet, this can be installed via the App Store.
Steps to create the report:
Click Reports from the menu, go to the Report Creator tab and click

Create New Report

button.

Give it a name (e.g. Lunch Orders) and click Create button.

Select modules from the selection. Basic reports include Students and Lunch Order. Click Next afterwards.

Select fields from the modules as shown below.

Click Done button at the top to run the report.

You can filter the report based on Lunch Date, Order Status, as well as Student's Grade, Student Name, etc. Basically all of the fields included in the report can be filtered by clicking the Add

button

beside Filters.

Save the report.
For questions, feel free to chat with us!
18MR0502