What are Tally Reports used for? Tally reports help with staffing, inform how many sections are needed for a subject depending on the number of course requests. This article describes how the Tally Reports found Course Requests work:

Section 1: Reports that can be used to ensure all student course requests have been submitted
Students with More or Less than N Requests
This report allows you to see students who have signed up for too few or too many course requests. The report displays students with less than X course requests or more that Y course requests. In order for this report to run you must choose one of these options and enter in a number of requests for the report to pull. You can choose to sort by Grade level, Student name or Student number. If you do not enter any number you will get an error message:

In the following example the report is set to pull students who have less than 5 course requests:

Students with No Course Requests
The Students with No Course Requests report is simple, as the title states it simply displays students who have had no course requests added. This allows you to see students who were missed or who enrolled after the course request process
Course Request Listing
This report is a master list of student course requests. It lists student in alphabetical order along with their course requests. It also includes students next grade level, sex and student number: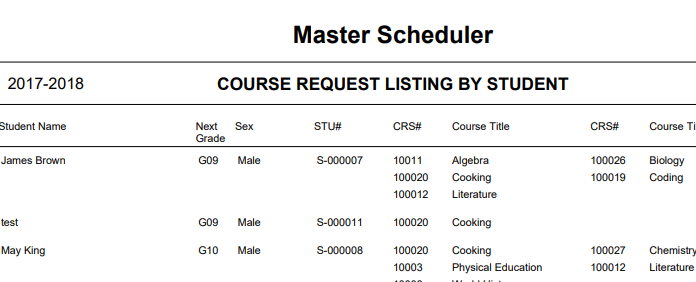 One example of using the Course Request Listing would be to filter using a report that pulls a specific group of students. For example, you can use a report that includes enrolled in your Special Education Program.
You can then run the Course Request Listing and using advanced filtering you can select the report that contains the group of students in the program, once you run the report you will only see students that are being pulled from the report: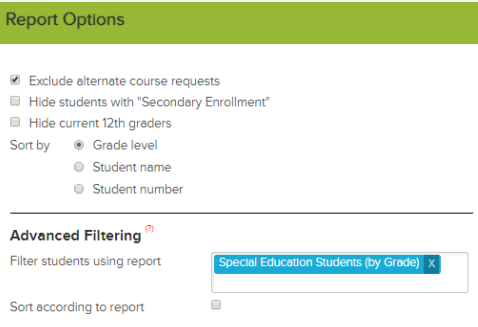 The report can then be given to a teacher/staff to confirm student requests based on student program requirements


Section 2: Reports that help with planning staffing needs
Requests by Course
This report tells you what courses students have submitted course requests for, along with how many requests have been submitted per grade level.
For example: If 432 students have submitted course requests for English 9, you can use that number to figure out how many sections of English 9 you will need next year
NOTE: This report excludes alternate requests but not duplicates

Reverse Verification Listing
This report displays all courses along with students who requested each course. You can filter by specific courses or run the report for all courses.

Course Conflict Matrix:
This report is used to identify course request combinations that may cause conflicts during scheduling.  For example, if many singletons have been requested by the same students, the courses need to be scheduled in different periods to avoid conflicts that could lead to incomplete schedules, combinations affecting the least number of students will be used.
The Course Conflict Matrix report will display a course that has course requests. Displayed under this course will be any course requested by a student that has also requested the first course.