Before you begin adding enrollment periods and setting up your schedule you must first configure your "District Settings". You will see the District Settings tab located under the Master Scheduler module:
These settings only need to be configured once, when you originally install the app, they do not need to be updated each new enrollment period. However, you can update them as needed.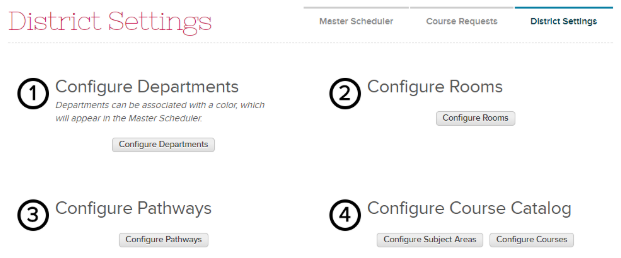 NOTE: You MUST add in departments, subject areas, courses and rooms in order for the Master Scheduler to work properly. 
Departments
To add a department click on the "Configure Department" and then click on "Add Department". You must at minimum enter in Department, Minimum, Target and Maximum size constraints. Adding an abbreviation is optional: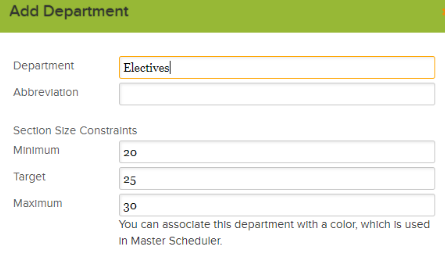 Rooms
To add a room click on the "Configure Room" button and then click on the "Add Room" button. You must enter in a room code and a room name (they can both be the same if you prefer).
Subject Areas
To add Subject Areas click on "Configure Subject Areas" and then click on "Add Subject Area" add in a name, the description is optional, and then click on "Add".
Courses
To add a course click on "Configure Courses" and then click on the "Add Course" button. In order to add a course at minimum you will need to add a Course Code and a Course Name: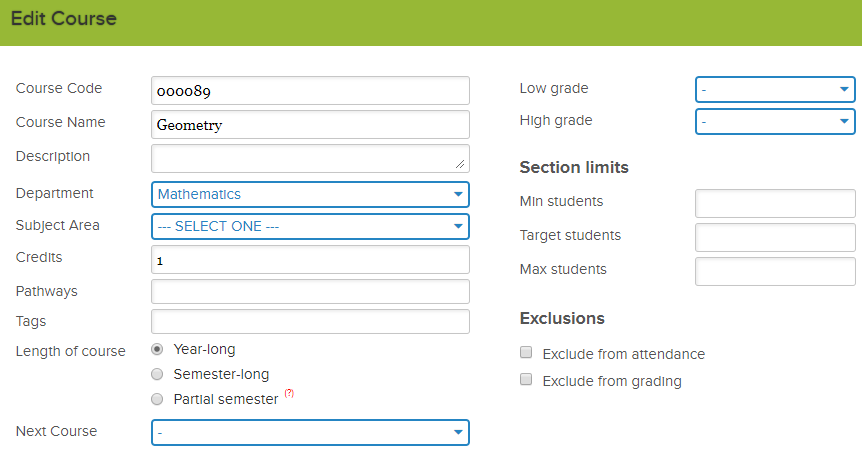 There are other fields that are optional but are quite useful for tracking details on courses. Keep in mind that details added to courses here will affect all schools that use master scheduler. If you are a part of a district or group details here will be applied to ALL sites that will be using the Master Scheduler. To make site specific changes you can make edits via the Course Offering.
Subject Area: Assign course to Subject Area

Credits: Assign number of credits for course

Pathways: Assign Pathway to course

Tags: Add tag to course

Length of Course: Choose course length

Next Course: Assign course that will be assign in next semester (for courses that are semester long)

Low Grade: Lowest grade level that can be enrolled in course

High Grade: Highest grade level that can be enrolled in course

Min Students: Minimum number of students that can be enrolled per section

Target students: Target number of students to be enrolled per section

Max students: Maximum number of students that can be enrolled per section

Exclude from attendance: Course will not count towards attendance

Exclude from grading: Course will be excluded from grading