This function allows the scheduler to group students into cohorts, where if a student is assigned ONE of the sections in the Block Section, the student will be assigned to ALL sections in the Block Section group.
Pre-Requisites
Students MUST have course requests in ALL sections within the Block Section group. If not, they will not be enrolled properly into the block section.
Block sections cannot be created until AFTER Step 4. Sections will only be created AFTER Step 4 of the scheduling process has been completed. Once sections have been created based on course requests, you can begin adding your Block Sections.
Changes to Step 4 on your Schedule Board may affect block scheduling, If you move a course that is a part of your block (after the block section has been created) the block section will need to be deleted and re-added. The schedule board will warn you of this when moving sections around with a pop-up warning:

Adding Block Sections:
Click on the "Define Block Section" button. You will be prompted to add in a "Meta Id". The Meta ID is important since it will be used to sort your block schedules:

Once you click "Add" your block section will be added. To add sections to your block click on the "Add" button in the appropriate period:

When you click "Add" under a period in the block system will show courses that have been scheduled during that period in the schedule board under Step 4 of the master scheduler (see example image below):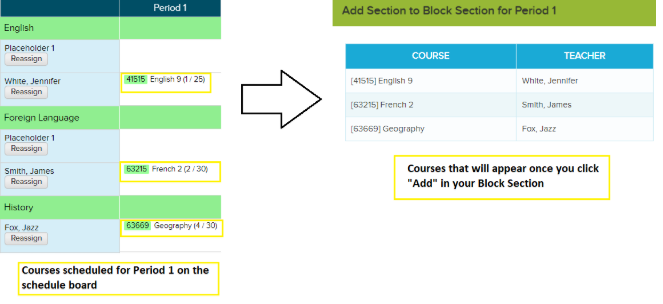 You can add as many sections to your block as needed, once you select a course it will appear in the block section:

Students will be automatically assigned to sections when using the "Load" button in Part 5.
For example, Cohort 9A includes English 11, Algebra and Cooking. Students "test" and "wes" have Course Requests for ALL 3 courses in the cohort: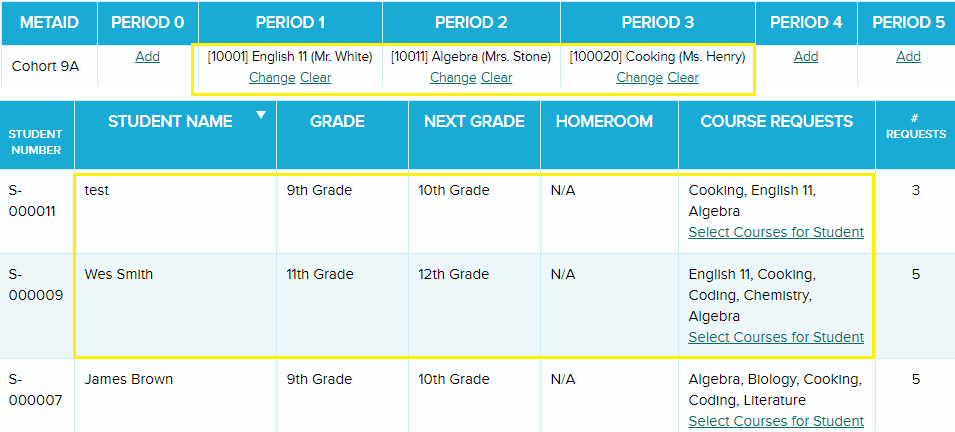 When I click "Load" under Step 5 the two students are automatically enrolled into the cohort: