QuickSchools comes with a complete mass messaging system (for parents, students and teachers) that includes email, text and voice. Emails are always provided for free, along with email-based alerts that go to parents. However, there is a paid component for Mass Messaging, which includes Text and Voice.
If you are on trial, the paid mass messaging system is disabled. You can view the screen, but the send button is hidden / disabled:
"Send Text Message" button is disabled for Trial Accounts
"Call Phones" button is disabled for Trial Accounts
When you subscribe, the button will still be disabled, but you now have the opportunity to buy credit:
Text Messaging with zero credit for Subscribed Accounts
The paid portion of the Messaging module follows a pre-pay system, where the school will need to buy credit, which then gets used up as you send out messages via text or voice. You can view and buy credit from the Account page:
Viewing / Buying Credit from the Account Page
You can also buy credit directly from the "Text Message" or "Voice Message" screens, by clicking on the "Add Credit" link:
Buying Credit directly from the Messaging screens
If you have a credit card on file, you can select it. Or alternatively, you can enter details for a new card. The "Add Credit" link is only available for School Administrators.
Users also have the option of clicking on "Usage History" to view all paid messages that have gone out:
Usage History for Mass Messaging
Here is an example screen of the "Text Message" screen, that has sufficient credit. Notice that the "Send Text Message" button is now available: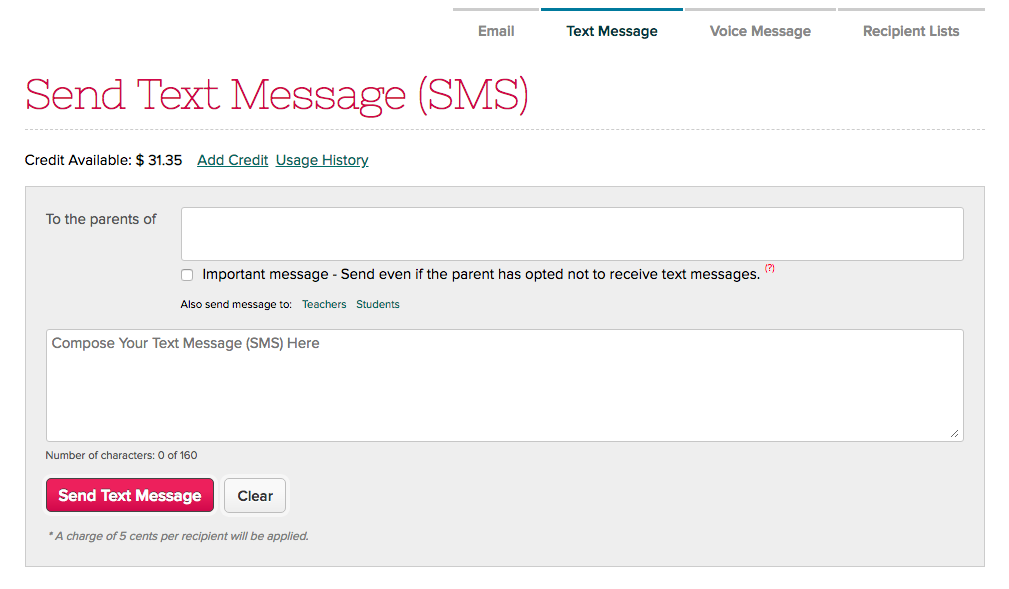 Mass Messaging With Sufficient Credit
In some case, credit checking can be temporarily disabled. In this case, no message is present, and users are free to send messages:
Mass Messaging with Disabled Credit Check
However, once the credit check is reinstated, you will see a negative balance which the school will need to reconcile with QuickSchools.
Mass Messaging with Balance Owing
Please feel free to contact our support team with any questions or comments.

18AK0905