The Program Attendance App can be used to track the attendance of before/after school programs. The screen is similar to the regular school Attendance module in QuickSchools.
You will find two tabs under the Program Attendance tab:
Programs
Attendance


Programs
To begin you must add in programs that you would like to take attendance for.
To do this click on Add New Program, you must add in a program code, name, intake date and outtake date. Users who are added under "Attendance Takers" will be given access to the roster for the program in order to take attendance: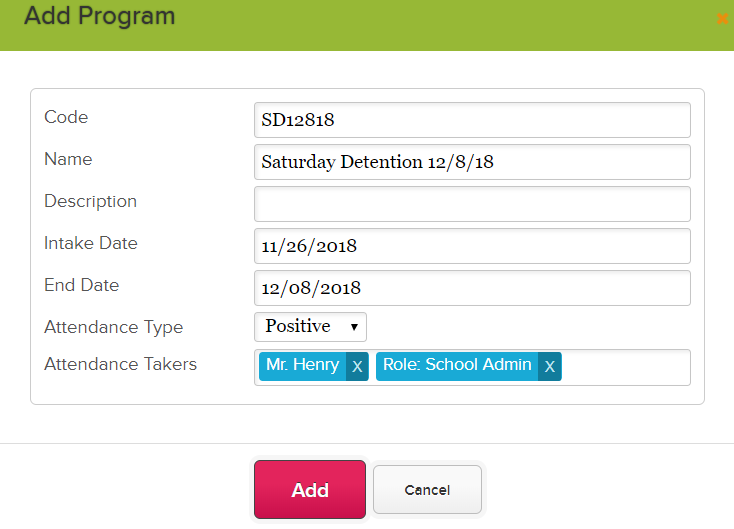 Note:  Only Attendance Takers will be able to see the Program under the Attendance tab, if other users need to see attendance for the program you must give them access under "Attendance Takers" (i.e. school admin who would like to view attendance for all programs)
Positive/Negative Attendance
Selecting Positive Attendance Type will default the attendance to Not yet taken:
Selecting Negative Attendance Type will default the attendance to Present:
Enrolling Students
After creating a Program you'll be able to enroll students.
To enroll a student click in the Add Student box and select a name from the drop down menu. Or to search for a student you can type their name in the field. To remove a student from the program click on the Delete button in their row:

Deleting a Program
To remove a program scroll down to the bottom of the screen, there you will see Want to delete this supplemental program? Click here:

Taking Attendance
To take the attendance, click on the Take Attendance button. If you have access to more than one program, the program drop-down will automatically appear with a list of all your programs to select from:

The attendance roster looks like the screen from the regular attendance module. Attendance is saved automatically so simply select a students status in order to take attendance. You can also add remarks or click on details to see a summary of students attendance from the current term: