At Quickschools, we understand that each school has different needs and terminology so we make it a point to cater to everyone by making some of our features customizable, like our public templates for report cards and transcripts. In this article, we'll discuss how you can customize your report card templates by:

Once you've selected your preferred template and configured the settings, click the Customize Template link from the Setup Report Cards tab.
Editing Labels
To edit the student information labels and headers, just click on the texts and edit as needed. The labels can be configured from the switches on the Template Selection page and may vary depending on the template used.
Sample editable labels are:
Student Name

Class/Grade level

Student ID (if enabled in Student Profile)

Academic Year

Homeroom Teacher

Homeroom name

Headers - eg. Qtr 1 to Q1
Add Custom Grading Scales
To add or edit the custom grading scales, ensure first that this is available in the template. On the Setup Report Cards tab, look for this setting: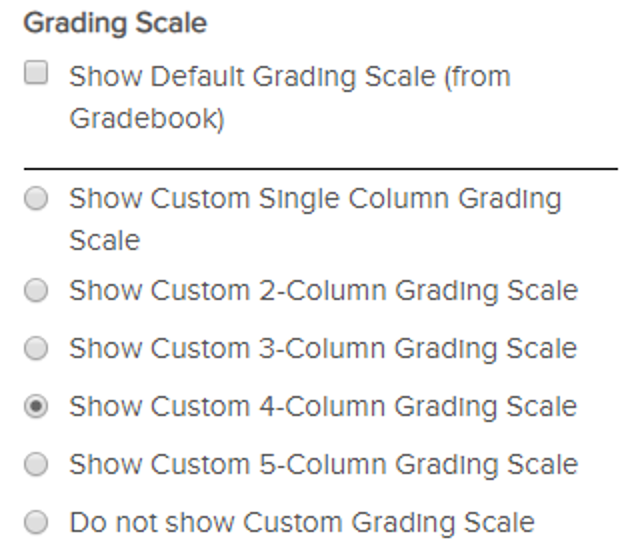 From the Edit Report Card Template page, edit the grading scale by hovering your mouse to the bottom line of the grading scale box until the "Click for options" bubble appears. After clicking the bubble, "Add New Item" will appear. Click again to create columns for the grading scale.
From the example above, the custom 4-column grading scale will look like this:
If you need to add another row, repeat the same steps.
Customize Colors
Some public templates allow customization of colors, like this Quarterly Classic template. This is found at the bottom of the Edit Report Card Template page.
To edit the colors, click the color box > scroll the bar to change hues > select preferred color > click the color wheel to finalize.
The report card should now look like this:
Sample template after changing colors from Green to Blue
For detailed instructions on creating report card sessions and setting it up, check out our Report Cards - Admin Guide.
If our public templates do not meet your requirements, we can definitely customize for you with additional fee. Listed below are some of the customization that we support, but are not limited to:
Special computation for Semester grades (eg. 80% Final Grade, 20% Exam)

Special computation for Attendance (eg. removal of specific attendance codes like "Holiday")

Showing of formula columns and grades from Gradebook

Custom sorting or grouping of subjects (instead of showing in alphabetical order)


For pricing, feel free to email us your requirements at support@quickschools.com.
19MR0227