We have recently added a new feature to our Google Classroom Integration App, the Synchronization Profiles. This allows you to create a batch of courses to synchronize with QuickSchools. Each batch can then be scheduled independently.
THIS IS A BETA FEATURE:

To have this feature enabled, please contact our Support Team.
Setting up Google Classroom Profiles
Once the feature is enabled for your account, you should be able to see a new option in Google Classroom, under STEP 5 -- Manage Synchronization Profiles

In order to create a Profile, click on Manage Synchronization Profiles > Add Profile.

Enter the Profile name, select the courses to be added to the profile, and click on Save.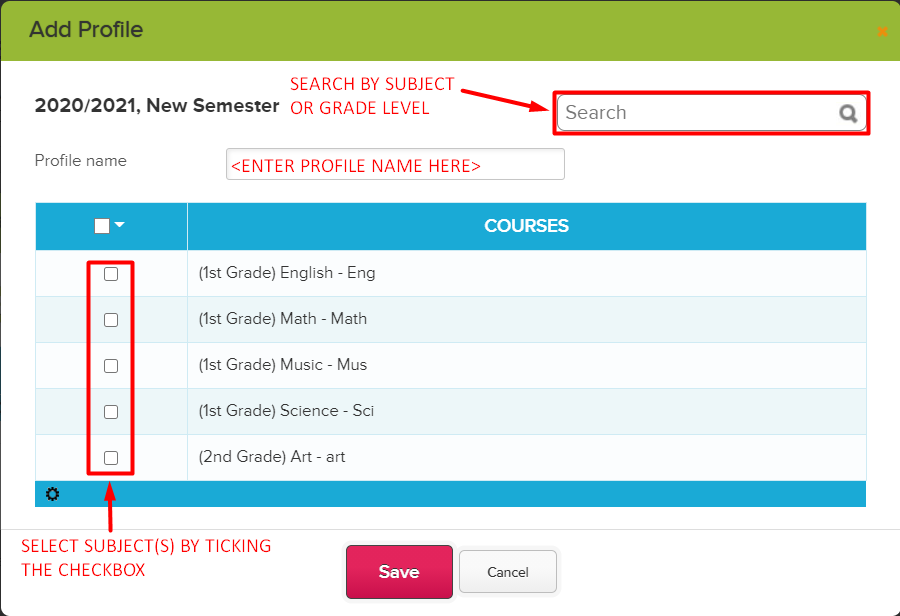 Once the profile has been created, you can view/edit/delete the profile under Manage Synchronization Profiles

Schedule Google Classroom Synchronization Profiles
Once the Profile has been created, you can now schedule the sync.
Under STEP 5, click on Schedule Synchronization

Select the Profile you would want to sync in the Profile dropdown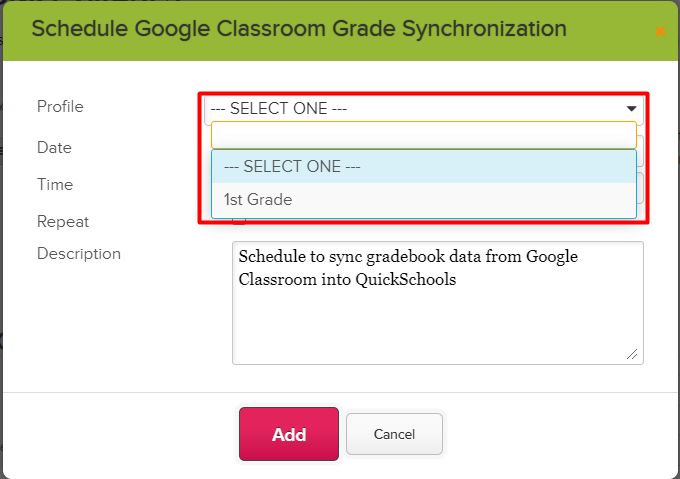 Set the date and time, and whether you would want the sync to repeat > Click on Add.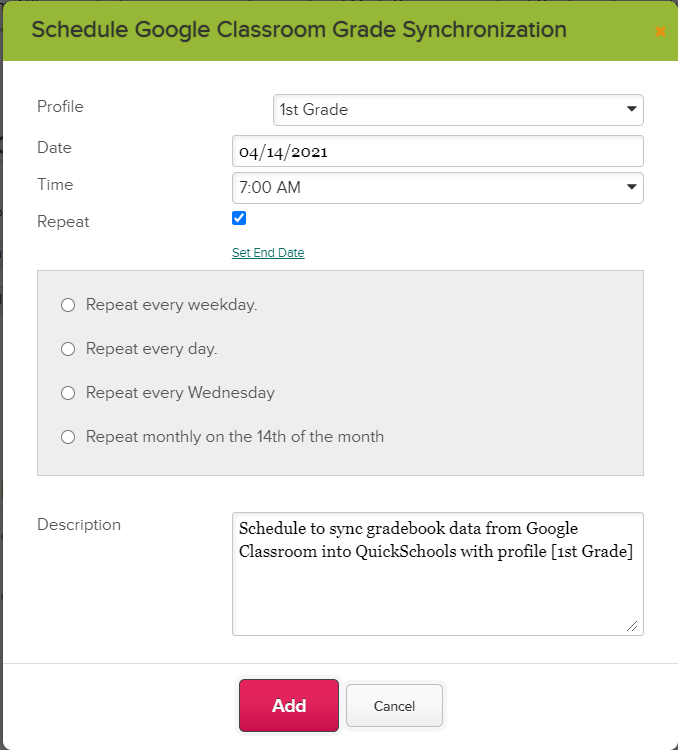 Once the synchronization has been scheduled, you can view this by clicking on "Synchronization history" under Step 5
IMPORTANT NOTES:
Profiles are dependent on the courses being mapped under STEP 3.

Courses that aren't mapped in STEP 3, will not be available in the Profile

If a course is unmapped in STEP 3, the course will also be automatically removed from the Profile.

When courses are remapped in STEP 3 at the start of a new semester, the Profile will also need to be updated with the latest mappings. Mappings from the previous term will no longer apply.

To avoid the sync getting timed out, we recommend having a maximum of 35 courses per Profile.

Multiple Profiles can be scheduled to be synced at the same time. However, each profile will be synchronized one at a time.