Whether you are on a semester, trimester, term, 9-week cycle, or other grading period setup, soon enough, fresh gradebooks and attendance are in order. When the new marking period is about to start at school (even if you're still working on report cards), it's time to create a New Semester in QuickSchools. This instruction also applies in creating a new quarter or a new term for your academic year.
Here are the steps for starting the new term: 
1 - Go to New Semester Setup (if this tab is not visible, click here)
2 - Click "Create New Semester"
3 - Name your new semester, then enter the Semester start date and end date: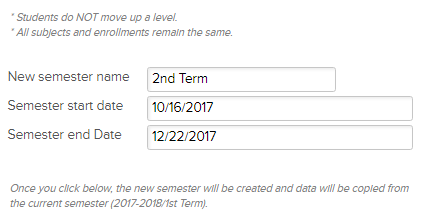 4 - Click the red "Create New Semester" button then click "Continue" to confirm:

You will then be notified of successful data migration. Click "Close" to complete the process:

All the subject and student data has been copied over and the new the semester has been set as active!
---
...and now you have a fresh semester for a fresh marking period! Hope this helps explain how to set up a new semester in the current academic year. If you have any questions or need any help at all, please feel free to chat in anytime!
18DP0227R