Fee Categories are an easy way for you to manage a charge that is used frequently. Categories are templates that enable you to set up and define fees once, which can be re-used in setting up charges. The categories you define will be available in the Add Charge form and can be applied to a student account in one click. When adding new fees to a student's account, you can select several categories at one time, reducing the time it takes to add multiple fees to students' accounts.
Enabling and Disabling Fee Categories
By default the Fee Categories feature comes disabled. After enabling the Fee Category feature, the Category Setup menu bar option becomes available on the Student Billing page.
From the School Fees Tracking dialog box, check Enable Each Charge/Payment to be Associated with a Category.

Click the Select Users Who Can Configure Categories text box. A list of faculty members and roles shows, select who can add, define, edit, and delete fee categories.

Note: If you leave this box blank, nobody will be able to create or manage fee categories

Click Save to save your changes. Click Cancel to leave your preferences unchanged.
See Setting General Fee Tracking Preferences for more information.
Adding, Editing and Deleting a Fee Category
Set up your charge templates here. The Default Category Description and Default Fee Amount fields are optional and can be added or edited when a category is applied to a student's account.
From the Fee Tracking page, click Category Setup tab.

Click Add Category. The Add Fee Category dialog box opens.

Enter Category Name, Description (optional) and Amount (optional).

Click Add to save the new category, or Cancel to discard your changes.
Note: Using "Credit Card Fee" as a category name will not allow you to allocate existing payments manually, thus cannot be used as a custom category name or description. This description is used in Online Payments where the credit card fees are automatically allocated by the system and is a read-only field.
Now when you try to add a charge for a student for example, the category you have added will appear in the Category list: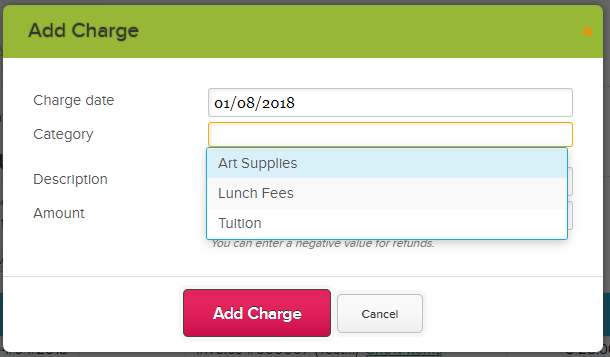 See Adding Charges for more information. <update link from support site>
To edit a saved category, just click the category on the list and edit as necessary. To delete category, just click the delete link at the bottom right.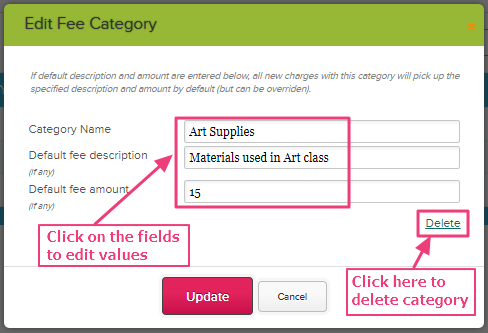 If you have questions, feel free to chat with us!
18MR0410