Configure the courses that will be offered this year, including which semester they are offered in. Also, set which teachers are eligible to teach this year. To start things off, open the enrollment period you are setting up in the Master Scheduler. Under Step 1 you will see the Configure Courses and Configure Teachers buttons:
Configure Courses
"Configure Courses" will list out all of the courses in your course catalog (this should already be setup since your course catalog should be set up under the District Settings tab and will transfer over, see Set up district settings for more info.) Changes made to courses should be done under the Course Catalog.
The Configure Courses screen is used to assign teachers to courses. Under Step 4 of the schedule process there is a "Run" function where the system will automatically assign sections for you. The system will automatically assign courses to teachers who you have assigned to courses under this step.
To assign a teacher to a course click on the course and then click in the teachers box to select a teacher from the drop down menu:
You can assign as many teachers to each course as needed, the system will randomly select which teachers to assign sections to based on teachers available periods:

Once you get to Step 4 of the scheduling process you can click "Run" to have the system automatically assign sections. In the example below you will see that both Coding and Spanish 1 were scheduled after using the "Run" function since teachers were assigned to those courses. English and Algebra were not scheduled automatically by the system since there were no teachers assigned to teach those courses:

Configure Teachers
Click on "Configure Teachers" to configure teachers who will teach during this enrollment period. Once you click "Configure Teachers" you will be taken to the "Select & Configure Teachers" screen were all of your teachers will be listed.
To exclude a teacher from the current enrollment period check the box next to their name and then click on the down arrow and select "Exclude selected teachers from scheduling":

You will see a pop-up confirming the removal of the teachers, click "Yes" and the teachers ill be excluded from the enrollment period:

A notification will be displayed at the top of the screen showing how many teachers have been excluded from the enrollment period:

Click on the "View" link to see the teachers details or to re-include a teacher: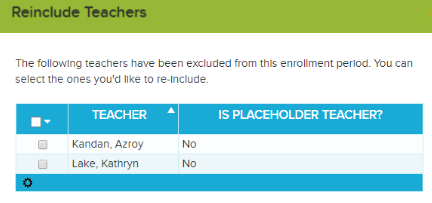 On the "Select and Configure Courses for:" screen you can also add a placeholder teacher by clicking on the "Add Placeholder Teacher" button:

This is where you can add/edit a teachers department and room number by clicking on a teachers name however you cannot edit a teachers name on this screen unless it is a placeholder teacher: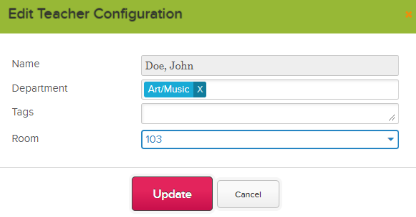 [NOTE: Teachers will not be assigned to sections until you get to the Schedule portion of Step 4]
Configure Course Offering
Click on "Configure Course Offering" in order to set up the courses that will be offered during the current enrollment period as it may be different from one to the next. The Course Offering site specific, if you are a part of a district or group school these are only courses that are offered at your school. These are the courses that will show under "Subjects" and "Course Requests" tabs. This screen will start off blank each new enrollment period:

To add courses to your course offering click on "Add Course".  The "Add Course Offering" screen contains all classes in the Course Catalog. Here you can select the courses that will offered at your school during the current enrollment period. You can search by grade level, subject area or course code to narrow down your search: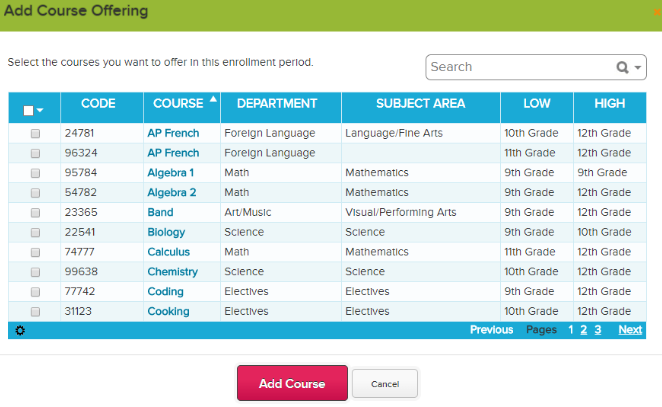 Check the box next to course to select it then click on "Add Course" to add it to the Course Offering. The courses you added will be listed under the Course Offering Screen: