Quickschools Student Tags is a great tool to associate students into certain groups, such as boarding houses, those who have medical issues, or even graduating students for the year, to name a few. The tags can appear on modules such as Attendance, Gradebook, and Report Card, and is reportable via Report Creator.
You can also use this to publish Online Form packets to certain active students based on their tags, using the "Submission by Tags". So for example, you could tag your basketball team students as "Basketball Team", and then use the Online Form module to create a "Permission Slip" form packet that would only be available to students with the "Basketball Team" flag.
IMPORTANT: The "Submission by Tags" feature is part of the Online Forms module, and is currently only available by request. If you're interested in the feature, please contact QuickSchools Support via chat, or email us at support@quickschools.com.
Once the "Submission by Tag" feature is enabled, turn on the Advanced Settings on the Online Forms App. To do this, simply go to App Store > My Apps > hover your mouse to that app and click Configure > tick the box Enable Advanced Settings.
   App configuration
 On the Online Form packet, scroll down to the bottom of the page and look for the setting Submission by Tag, check the box "I want to customize different forms for different student tags."
    Advanced Settings with Submission by Tag
One Form Per Child should also be turned on for this to work properly.
Configure the PDF form or Custom Form then select the tag from drop down options on the Limit visibility to field. Even if the form is publish to All Students, the system will hide the form to students without the specific tag. 
Online Form Configuration
In this example, we are enabling a "Graduation Letter" packet that will only be published/available for students with the "[2019] Graduation Year" student tag.
 Here's an example student with the "[2019] Graduation Year" tag
You can then proceed with configuring the form packet like normal. Please see the "Online Forms" manual on how to configure Online Form packets.
In this example, we are only collecting an optional acknowledgment that the student has read the contents of the form. You can make this form Optional instead of Mandatory. You can customize the optional message as well.
Here's an example of an Optional Online Form configuration
Student Portal Home page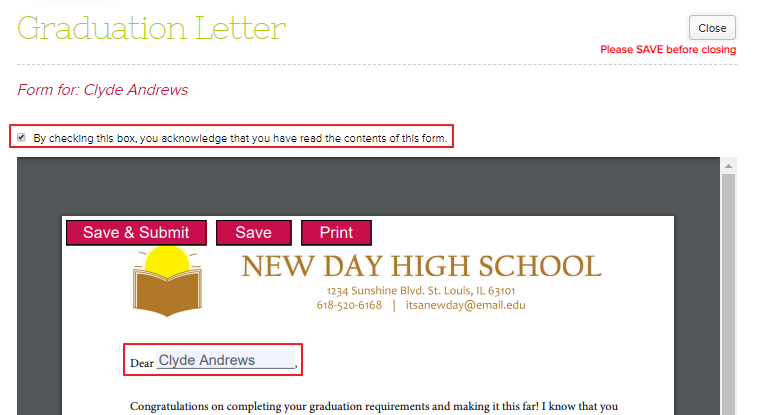 Online Form with Acknowledgement check box and mapped Student Name
Should you need assistance on setting this kind of form, please chat with us or email us via support@quickschools.com.
19MR0724