Quickschools Online Payments feature is the easy way for your school to collect fees online using credit cards. QuickSchools uses the online payment service Stripe, so all you need to do is set up an account with them. Stripe takes care of processing and recording credit card payments, then sends the records right to your QuickSchools account. Once your Stripe account is set up in Fee Tracking module, parents can easily and conveniently pay their bills online using their credit cards right from their QuickSchools Parent Portal account.
This article offers detailed information on setting up and managing online payments and setting up and using a Stripe account.
Enabling and Disabling Online Payments
By default, the Online Payments feature comes disabled. After enabling Online Payments, the Online Payments menu bar option becomes available on the Student Billing page.
From the top of the page, click Settings > Turn Features On/Off.

Go to the row that says School Fees Tracking.

Click Configure. The School Fees Tracking dialog box opens.

On the Online Payments section, tick

Turn on online payments in the parent portal

and/or

Turn on online payments in the student portal

.

Click the

Select Users who will be able to Manage & View Payments made by Parents/Students text bo

x. A list of faculty members opens.

From the faculty member list, select who can view and manage online payments.

Note

: If you leave this box blank, nobody will be able to view or manage online payments.

Click Save to save your changes. Click Cancel to leave your preferences unchanged.
Using Online Payments
Online Payments are made through Stripe so there is no need for your school to handle or process credit card payments. Online payments are posted to the Online Payments page and to student's individual accounts when parents make their payments from the QuickSchools Parent Portal.
Accessing an Online Payment Record
To access a record of online payments that parents have made, go to the Online Payments page.
Click

Fee Tracking

at the top of the page. The Student Billing page opens.

On the right of the Student Billing or Family Billing page, click Online Payments. The Online Payments page opens. Image below shows how it looks like after setting up Stripe.
Introduction to Stripe
QuickSchools uses the online payment service Stripe to manage all online payments to QuickSchools. To receive online payments, you need to set up a Stripe account. A link to Stripe's sign up page is available within QuickSchools on the Online Payments tab. Once the school's Stripe account is set up, a View and Pay Fees tab will be available in the parent portal menu. When parents click View and Pay Fees, they are prompted to enter their credit card information. Once their credit card information has been entered and saved, parents can quickly pay their fees. To see if Stripe is available in your country, click here.
QuickSchools charges an additional of 3.9% + 30 cents per successful transaction. By default, schools will pay the credit card transaction fees, but you can change this and transfer the fees to parents/students when you configure the online payment settings.
Signing up with Stripe
From the Student Billing or Family Billing table, click Online Payments. The Online Payments page opens.

Click Connect with Stripe.

You will be directed to the Stripe website. Complete the Stripe Account Setup form with your school information.

Click Authorize access to this account when you are finished. You will be taken back to QuickSchools and may need to log back into your QuickSchools account.
To access, use, or manage your Stripe account, visit Stripe's Website at Stripe.com.
Once you have set this up, parents and students can now pay online from their portal accounts. For information on how parents can use this feature, click here.
Viewing and Synchronizing Stripe Payment Records
Stripe automatically updates your QuickSchools account (under Online Payments tab) when online payments are made from the Parent Portal or refunds are issued by your school. These updates usually occur quickly and require no action on your part.
However, if your records are not updated immediately, you can synchronize your records with Stripe. This updates your QuickSchools records with the latest payment and refund information that Stripe has recorded.
Note: Online payments are transferred by Stripe to your school's bank account 7 days after the payment is made. To perform full and partial refunds, handle disputes and payment failures, please go to your Stripe.com account.
You can synchronize your QuickSchools account 2 ways:
Click

Synchronize with Stripe

from the Online Payments page.

Click

Sync with Stripe

link from the Online Payment Details dialog box by clicking on the payment from the list.
Deauthorizing a Stripe Account
If you no longer want to receive online payments from parents through Stripe, you can deauthorize Stripe from accepting payments on your school's behalf. Deauthorizing Stripe from your QuickSchools account does not close your Stripe account; but should you wish to close your Stripe account, go to Stripe.com.
From the Online Payments page, click Disconnect Stripe Account.
A confirmation dialog box opens. Click Yes to deauthorize Stripe from receiving payments from parents on your school's behalf or Cancel to leave your Stripe account unchanged.
Payments will also reflect on the student's account under the Student Billing or Family Billing page. If Parents/Students will pay the Stripe transaction fees, the Credit Card Fee amount will automatically be allocated and reflected in the fee transactions.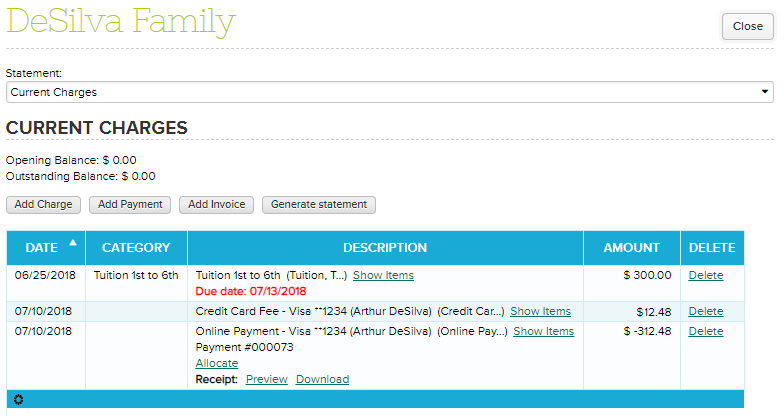 Feel free to contact us via chat if you have questions.
18MR0713