Administrators can easily and conveniently configure Gradebook Settings for the entire school by using the Grading Setup link at the top of the screen. These settings will be reflected in every teacher's Gradebook.
On this page, you'll be able to set up:
Gradebook Configuration
To enable this feature, go to Settings > Turn Features On/Off.

On the Report Card/Gradbook Section, click Configure.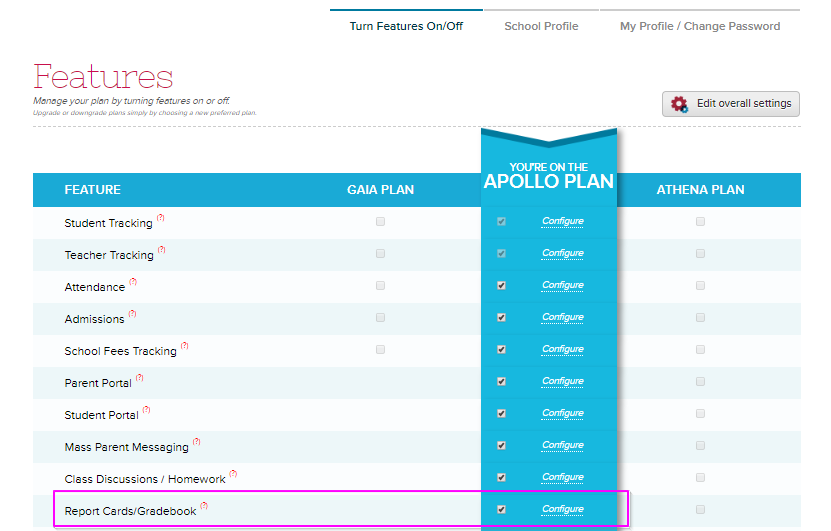 Select users who will configure Gradebook. You can select a role or a specific user. These users/roles will be able to access the Grading Setup tab.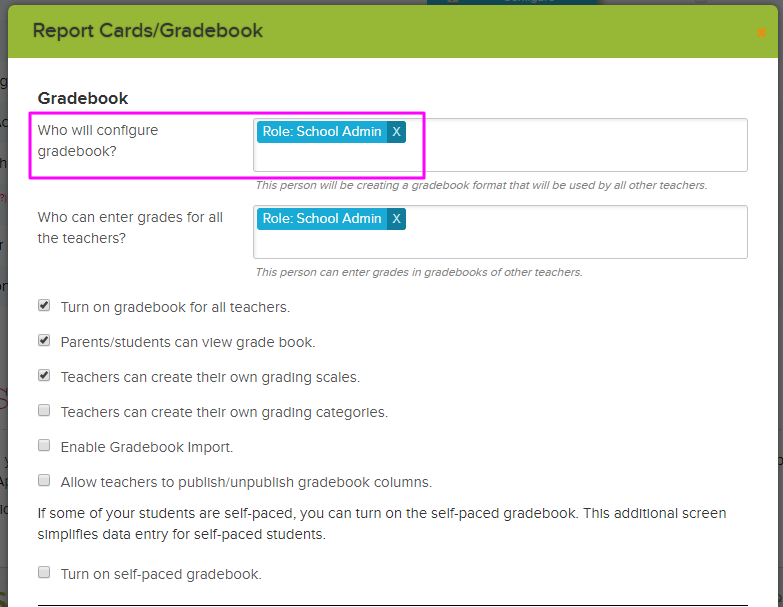 Additional information on the Gradebook configuration from the Features page:
Who can enter grades for all the teachers?

The assigned user will have the ability to select a teacher's Gradebook and subjects to enter grades

on behalf of them.

Turn on gradebook for all teachers

Recommended to be always checked and is usually done after setting up the Gradebook Settings

Parent/students can view gradebook

Gradebook grades can be viewed via the Gradebook tab on the student's record.

Teachers can create their own grading scales

Teachers can create their own grading categories

Enable Gradebook import

Import grades from an Excel file

Allow teachers to publish/unpublish gradebook columns

If the above setting for "Parent/students can view gradebook" is enabled, teachers can have the ability to choose which columns/grades on the gradebook should be shown.

Turn on

self-paced gradebook

Teachers can enter grades by student instead of by subject
After saving the settings, the page will refresh. Grading Setup will now appear on the menu:

Gradebook Categories
The Grading Categories feature in Gradebook Settings enables administrators to identify and establish appropriate column headings for evaluation instruments teachers may select in building their Gradebook. In this example, there are three grading categories (Assignment, Quiz, and Test):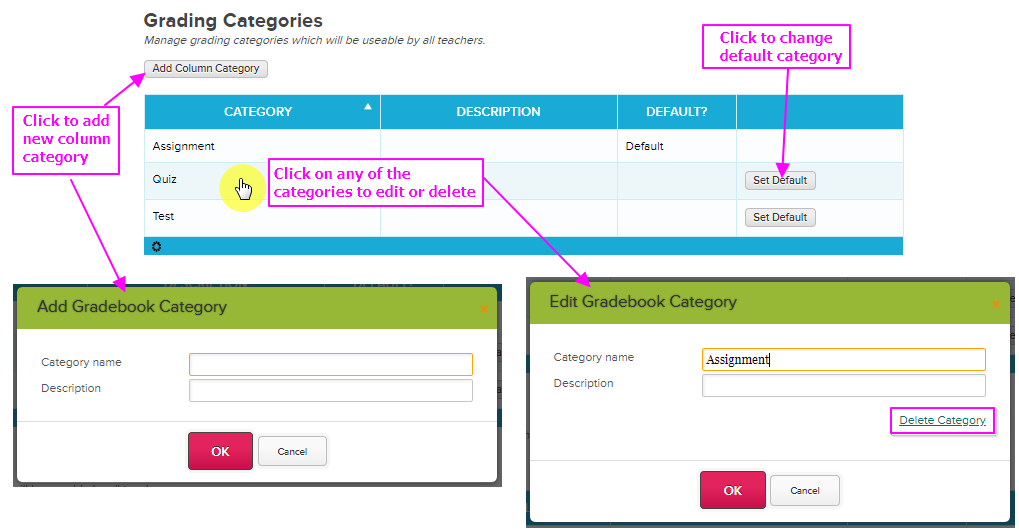 When you add a column to the Gradebook, the default category will appear as illustrated below: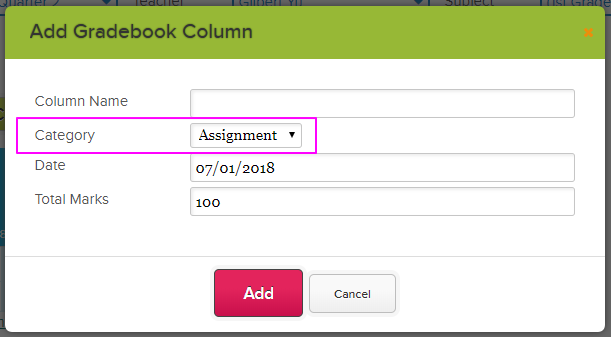 Note: You can allow teachers to create their own categories on their Gradebooks. The categories that they create will not appear on the global Category list in Grading Setup. To view and monitor this, you should have the ability to enter grades for all teachers, where you can then view/set the categories on the Gradebook Configuration page.
Grading Scales
Each school will have a single default grading scale that will automatically be set as the basis for determining grades in each course unless an alternative grading scale is manually selected for use by an individual teacher in his or her Gradebook. The administrator may edit the default grading scale, or create a new scale entirely and set it as the default. There may be many different grading scales utilized in each school, but only one may be set as the default. The screens are pretty much straight-forward and easy to use.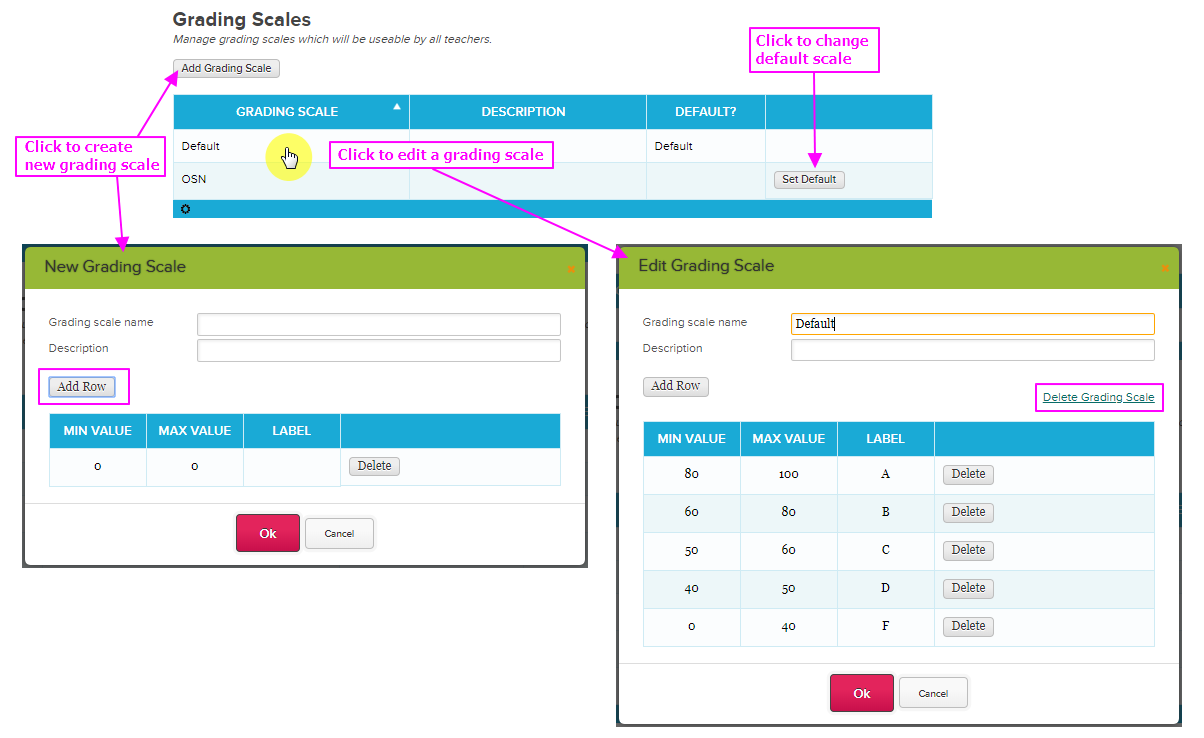 Like the categories, you can also allow teachers to create their own grading scales on the Gradebook.


Gradebook Codes
The Gradebook Codes table displays non-numeric grade codes that can be entered into the Gradebook, and whether or not they are to be counted in the calculation of the final grade. These codes can be used when students are absent, do not submit work, or earn zero points on an assignment or test. The initial legend of gradebook codes includes five different circumstances under which a numerical grade might not be given ([Leave Blank], 0 (zero), E (excused absence), U (unexcused absence), and I (Incomplete), as shown):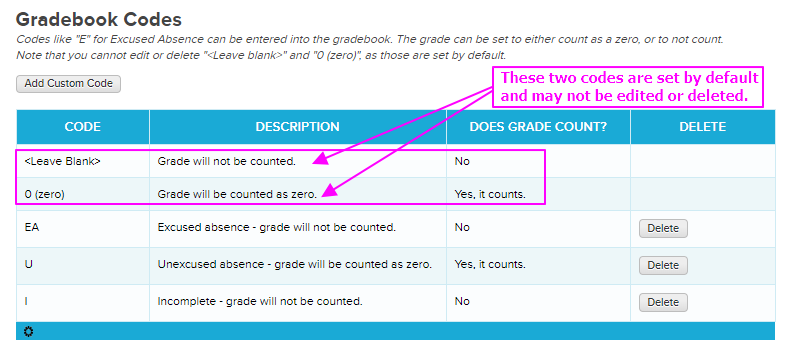 To edit a custom code, just click on a code on the list. The first two cases, [Leave Blank] and 0 (zero), may not be modified - blank grades are never counted in grade calculation, whereas entered scores of zero always are. All other custom codes may be described and set in accordance with school policy.
Click Add Custom Code button to add a new code. Enter the code and description, then chose if the grade will be counted or not.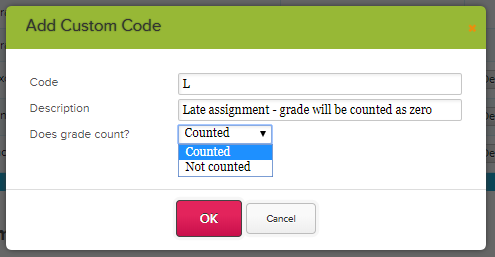 In this case, the custom code "L" is added to indicate a late assignment, which will count as zero. It is important to remember that custom grade codes can only be toggled to count as zero or not to count at all, so they are used in recording the circumstances surrounding the student's performance, but cannot be used to award partial credit.
Number of Decimal Points
You may select the number of decimal points to be accepted by the Gradebook in receiving and calculating grades by selecting either 0, 1, or 2 from the drop-down menu:

Gradebook Formula Behavior
Gradebook Formula Behavior is a special setting administrator can use to decide how the Gradebook will treat a case in which a student has no grades for an entire category.

There are two options in the drop-down menu, Show Incomplete and Re-normalize. Selecting Show Incomplete results in an "I" final grade for the course, whereas Re-normalize (which is the default setting) effectively removes that category from the calculation and renormalizes the student's grade to a total of 100%.
In the example below, we have the Final Grade column with the weight formula 50% Test, 10% Recitation, 20% Quiz, 20% Assignment, for a total of 100%.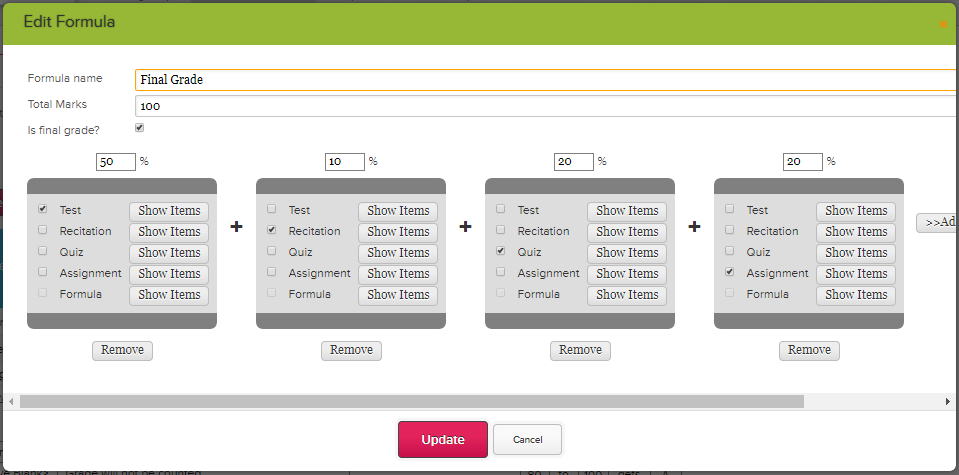 If we set the Gradebook Formula Behavior to Show Incomplete, the student without a grade on one of the categories (ex. Quiz) will have "I" as the final grade.

If we set it to Re-normalize, the system will remove the 20% Quiz weight and only compute the 80% weight factors remaining. This option is extremely useful for handling cases of students with a disability accommodation, for example, who may be excused from a category of evaluation but should still receive a grade in the course.

Gradebook Admin Columns
School Administrators have the ability to create default gradebook columns that will appear on all Gradebooks.

You have full control of the column, whether to publish to parents and students, lock columns to prevent further changes, as well as set date ranges. The columns can be a regular column or a formula column.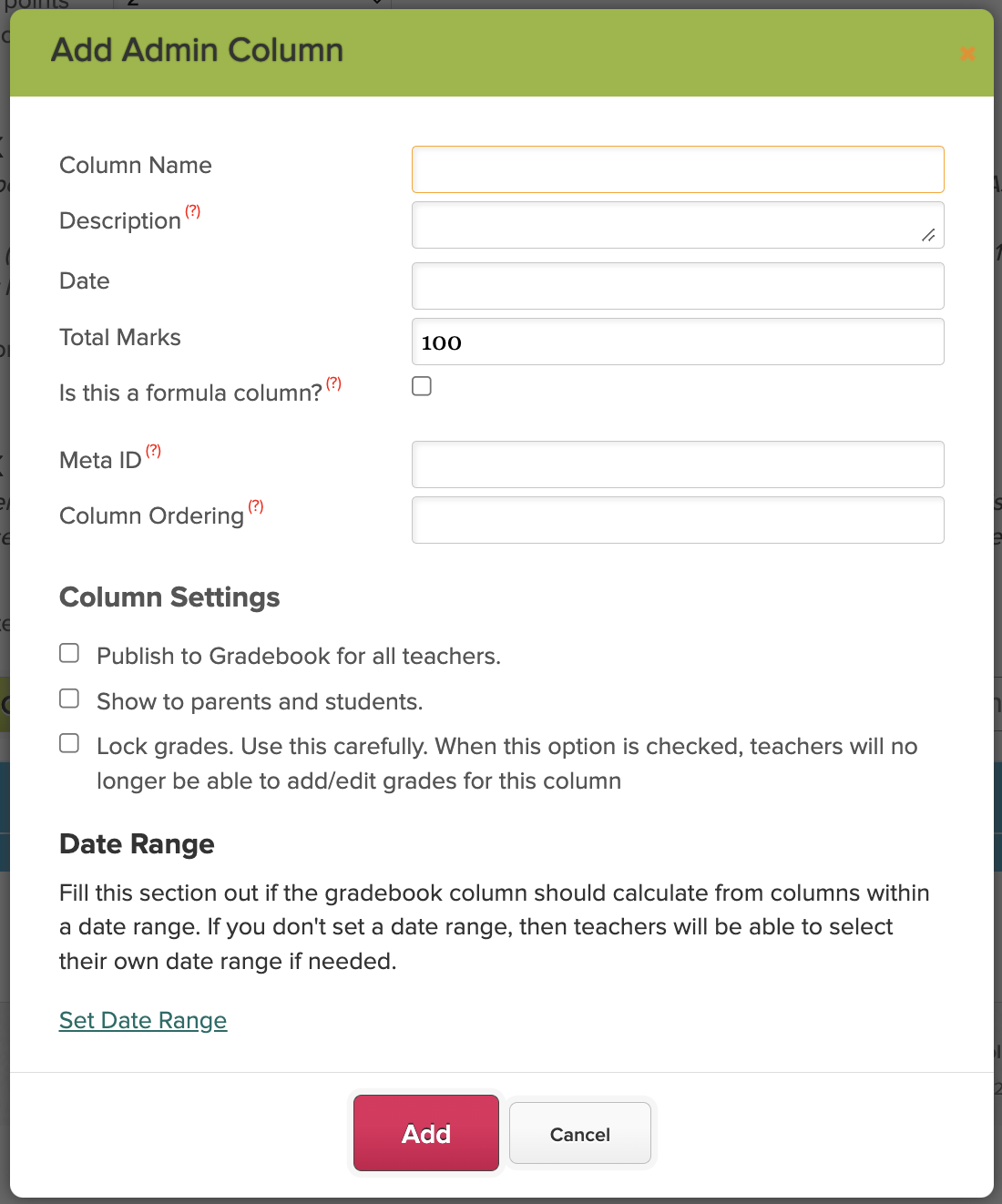 Admin Columns can be found at the very end of Gradebook column and can be identified by their distinct orange-colored column headers.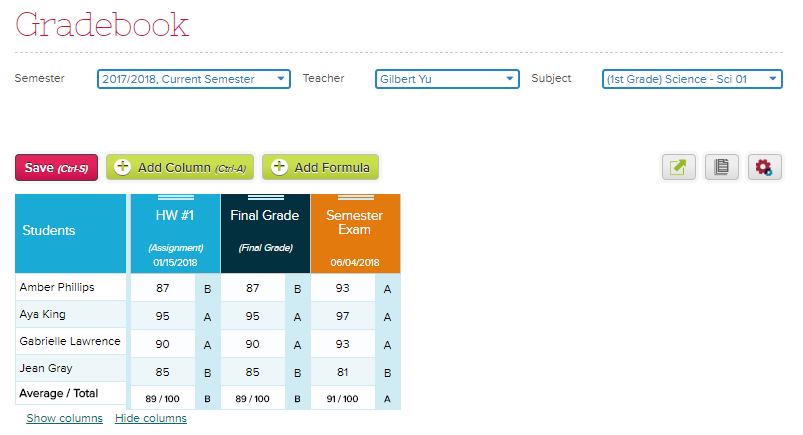 For a more detailed information on how to set this up, check out our article Default Gradebook Columns For Transferring Averages To Report Cards.
18MR0727