Quickschools offers more than the basic needs of a school for better management of grading, attendance, fee tracking, and record-keeping. The App Store is where you can get additional features to put students' information to good use to achieve excellence in education.
To install apps, visit the App Store at the top right of your screen. You'll see all the available apps in the App Store tab and all your installed apps in the My Apps tab.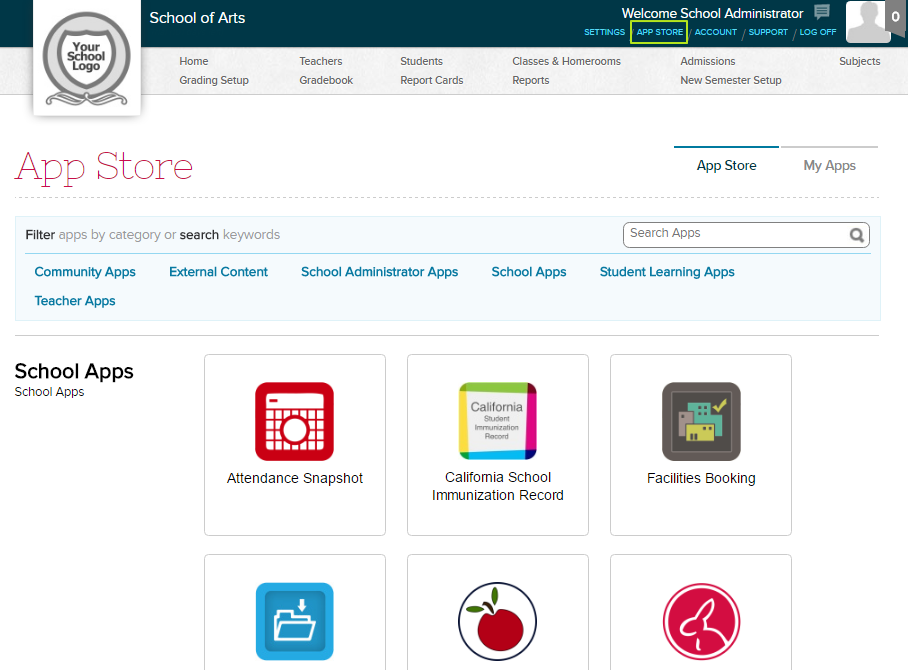 Here's a list of Apps that you can check out, some of these are free to use within a period of time and if you liked it, you can add it to your monthly subscription.
School Apps
Attendance Snapshot

-

See daily student attendance quickly and efficiently.

California School Immunization Record -

Edit the blue health cards directly from QuickSchools.

Facilities Booking -

Allow teachers to book facilities

Fileroom -

Upload and share files on virtual cloud drive

Free/Reduced Lunch

-

Manage student free and reduced lunch eligibility information.

FundRabbit

- Manage donors and donations.

Host Family

-

Track and manage students with host families

.

IEP - Individualized Educational Programs

-

A lightweight solution that allows for tracking students' eligibility status, and stores all information for every student in their own file.

Lunch Count

-

A simple app for teachers to submit lunch count

Merit System

-

Award and manage merit points for your students.

Online Forms

-

Publish forms for your users to fill out. Supports both PDF forms and custom forms.

Student Activity Log -

Strong note taking for managing student information.

Student Sign-in/Sign-out

-

Sign-in and sign-out students.

Teacher Attendance -

Track daily attendance as present or absent for your teachers in QuickSchools.

Test Scores/Certificates

-

Use this app to track student test scores with their related section scores and subscores.

The Lunchroom

-

Track lunch fees and payments separately from the Fee Tracking module.
School Administrator Apps
Advanced Subject Setup

-

For larger schools that setup subjects by section. Also useful when subject enrollment is by homeroom.

Community Service - Track students community service.

Custom Attendance Codes

-

Your school's admin office can use this app to track absences and tardiness using your own custom codes.

Custom Domain -

Access QuickSchools from your own domain like http://portal.yourschool.edu.

Gradebook Dashboard -

Allows teachers to see performance at a glance.

Health - Track health-related information (including medical history, medication, exams and notes) for students.
Program Attendance - Keep track of before/after school programs and attendance

Report Creator

-

Create tabular and pivot table reports from your QuickSchools data.

Sports and After-School Activities Tracker

- Keep track of which activities students are participating in.

Super User -

Log in as any user in your school.
External Content
Calendar

-

A simple app to display your Calendar via HTML or iFrame

Canvas Integration -

Export your students, teachers and enrollments from QuickSchools into Canvas, and grades back into QuickSchools.

Links -

Display useful links to teachers, parents and students.

Quickbooks Integration (Beta)

-

Connect Fee Tracking with your QuickBooks Online Account.

Schoology Integration (Beta)

-

Export your students, courses and enrollments from QuickSchools into Schoology.

Wufoo Forms Integration -

Put wonderful Wufoo Forms directly within QuickSchools. Collect information from teachers, parents or students.
Teacher Apps
Community Apps
Feel free to chat with us if you have any questions!